General Purpose Vinyl Gloves (100each/box)
Ship 1 business day. Order now!
Product Detail
**Please note, due to the nature of this item there are no refunds, exchanges or returns. 
If you need bulk quantities, please email contact@acsmaterial.com. Thank you!
INTERNATIONAL ORDERS: We are unable to fulfill lab supplies orders outside of the USA. Orders shipping to Alaska, Hawaii, Puerto Rico & US territories will incur extra shipping fees. 
INQUIRIES: The best way to contact us is by email. Please email contact@acsmaterial.com if you have urgent inquiries. 
BUSINESS HOURS: Monday to Friday 9AM to 5PM PST.
Related Products:
KN95 Face Masks/Disposable Face Masks/Gloves/Hand Sanitizer/Alcohol Disinfectant/Face Shield/Safety Goggles
>> Order Here <<

Product Overview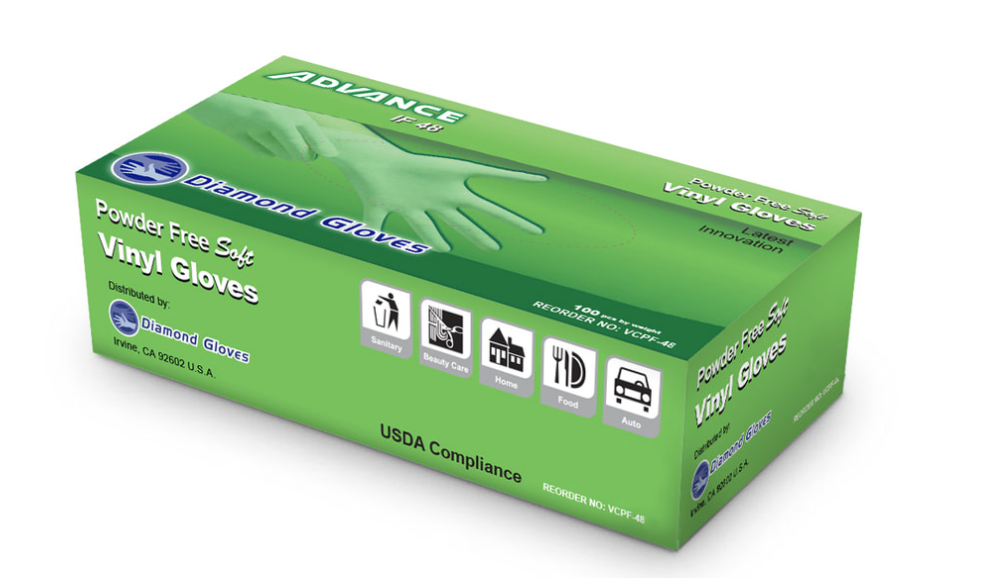 Specifications
Product Name:

General Purpose Vinyl Gloves

Standard:

Industrial, Multi-purpose

Type:

Ambidextrous, Beaded Cuff, Powder Free, Finger Micro Textured

Sterility:

Non-sterile

Color:

Clear

Size:

M, L

Weight:

4.5 ± 0.5 gram

Fingertips Thickness:

3.5 - 4.0 mil

Package Size:

100PCS/BOX

Features:

Food Service Grade

Powder-free

Ambidextrous

Rolled Cuff

Wrist Length

Single use only

Origin:

China
*Not for use in diagnostic procedures.
*This product is not made with Natural Rubber Latex 
Instructions
Single Use Only
Non-Sterile; Not Surgical Gloves
When wearing gloves, do not wear rings or other accessories, pay attention to trim nails
Wash hands before and after use
Storage:
Store in a dry ventilated environment. Avoid direct sunlight. 
Disclaimer: ACS Material, LLC believes that the information in this Technical Data Sheet is accurate and represents the best and most current information available to us. ACS Material makes no representations or warranties either express or implied, regarding the suitability of the material for any purpose or the accuracy of the information contained within this document. Accordingly, ACS Material will not be responsible for damages resulting from use of or reliance upon this information.