Microfluidic Spinning Equipment
Product Detail
Product Overview
ACS Material microfluidic spinning equipment brings you microfluidic spinning technology, which is the newest preparation method for spinning orderly oriented fibers. Compared with electrospinning equipment, microfluidic spinning equipment is safer, since it can avoid high voltage electrostatic fields. This equipment can precisely control the receiving position and the scope of a single fiber and it is recommended for spinning one dimensional structural materials, etc.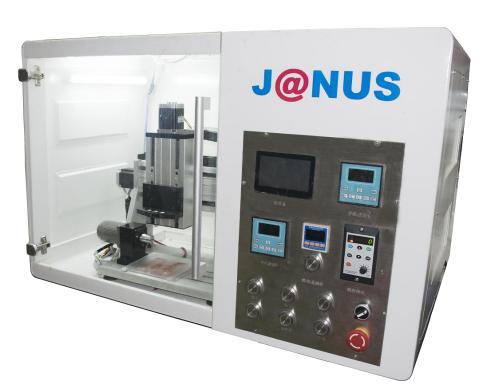 Photo of Microfluidic Spinning Equipment
Product Features
Spins a variety of materials
Orderly arrangement of fiber array
Fiber diameter range: nm~μm
Produces organic-inorganic mixed fibers
Precise control
Easy to operate
High security
No need for special conditions such as high temperature and high pressure
Product Composition
1) Syringe pump
2) Microfluidic nozzle

3) Microfluidic chip

4) Spinning Receiver
5) Electronic control moving system
6) Temperature curing system
Product specifications
Syringe Pump

Volume

10 or 20 mL (contact us for availability)

Feeding Speed

0.0003 mL/min-681.73 mL/min

Spinning Receiver

Effective Stroke

360 mm    

Rotating Speed

1-1440 rad/min  (Adjustable)

Translational Speed of Electronic Control Moving Device

0-1000 mm/min  (Adjustable)

Temperature Control Range

Room temperature ~80℃

Temperature Control Accuracy

±1℃

Humidity Accuracy

±3% RH

Power Source

AC: 220V±10%, 50Hz

Conditions of usage

Atmospheric pressure and room temperature

Power of Temperature Curing System

200 W

Rated Power of Microfluidic Spinning Equipment

600 W

Size

950*550*600 mm

Weight

55 kg
Applications
One-dimensional ordered fluorescent microfibers
One-dimensional bamboo- structured fluorescent hybrid microfibers
One-dimensional Janus hybrid microfibers
One-dimensional microarrays and microreactors
Three-dimensional Janus microspheres
Uniformly sized and orderly arranged three-dimensional microbeads and hybrid microbeads, micro-structure reactors and sensors
Experimental equipment for textile and microchemical engineering
Disclaimer: ACS Material, LLC believes that the information in this Technical Data Sheet is accurate and represents the best and most current information available to us. ACS Material makes no representations or warranties either express or implied, regarding the suitability of the material for any purpose or the accuracy of the information contained within this document. Accordingly, ACS Material will not be responsible for damages resulting from use of or reliance upon this information.