Laboratory Mini Hot Press
Laboratory Mini Hot Press
Product Detail
Product Overview
Our QixingTM Laboratory Mini Hot Press with integral hydraulic system and high technology options are optimized production press models adapted to precision laboratory requirements. The overall size are minimized and total weight is significantly reduced from metric tons to ~85kg by using titanium aluminum alloy instead of cast iron. It's easy to move, install, operate and maintain. Recommended for hot pressing of polymer composite materials to prepare plastic sheet, dumbbell bar, straight and notted bar, vertical combustion sample, oxygen index spline, etc., which can be used for testing the mechanical properties of the materials.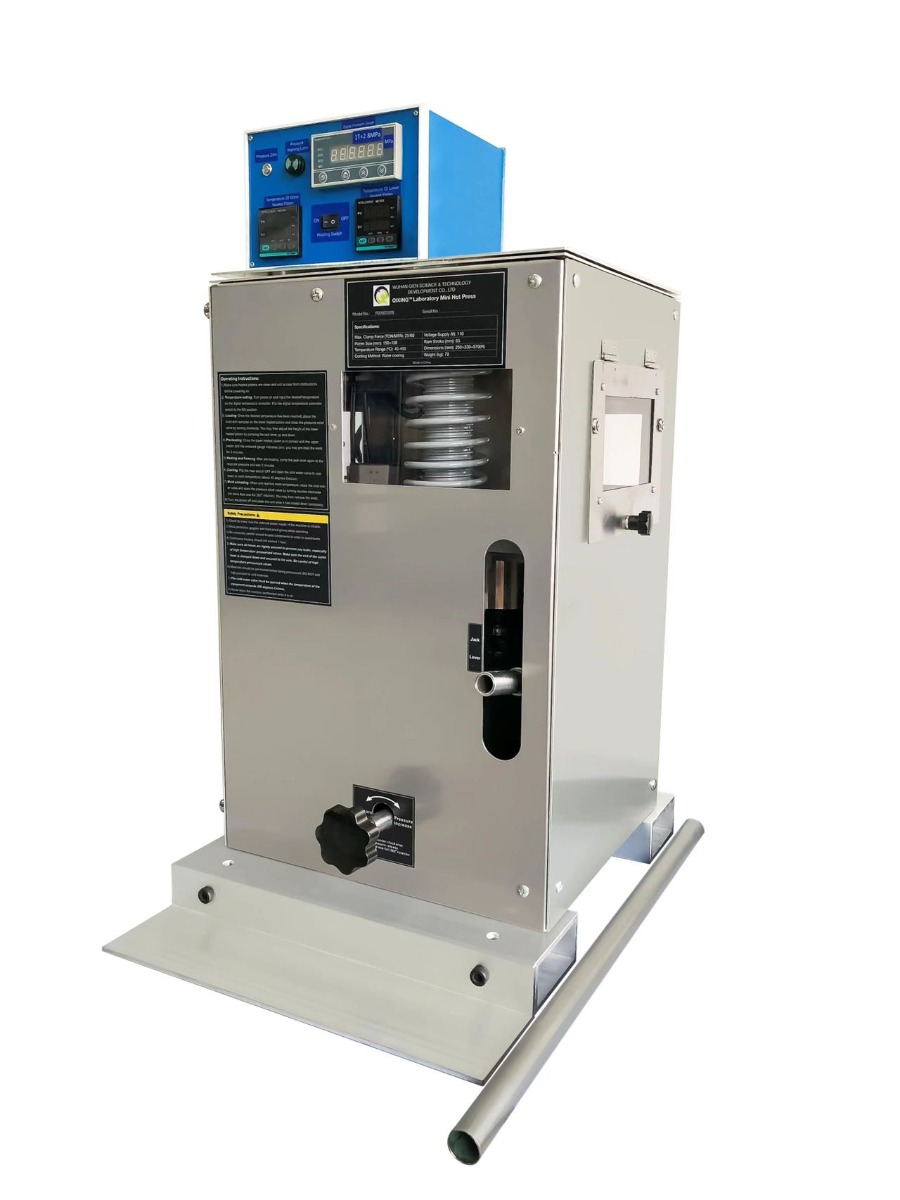 Product Features
Light weighted (~85kg), easy to move
Mini size, less space occupation (i.e.an area of a 15inch notebook)
Special stainless steel protection, waterproof
Build-up machine and replaceable parts, easy to install and maintain
High security using manual pressure control
One joint only, high-pressure sealing and oil-leak free
One machine for multiple purposes, capable of making dumbbell samples, impact notch samples, etc., can save the punching machine, universal prototype machine
Water cooling, smooth samples with shortened sample preparation time
Product Specifications
Product Name

QixingTM Laboratory Mini Hot Press

SKU #

EHPM0101

Model #

R32022020

Clamp Force (Ton/Mpa)

25/60

Ram Stroke (mm)

65

Platen Size (mm)

150×150

Cooling

Water

Temperature Display Accuracy

+/-1 %

Temperature Range (°C)

40-450

Voltage Supply (V)

110 or 220

Unit Dimensions

W x D x H (mm)

250×330×570(H)

Weight (kg)

85

Power (KW)

2.0

Photo of a Sample Prepared by QixingTM Laboratory Mini Hot Press
A polycaprolactone(PCL)-Starch composites sheet (100*100mm) prepared by Model # R32022020 and dumbbell bars obtained via dumbbell cutter.
(Prototype sample of 63.5*9.53 mm, ASTM 638 Type V standard)
Disclaimer: ACS Material LLC believes that the information on our website is accurate and represents the best and most current information available to us. ACS Material makes no representations or warranties either express or implied, regarding the suitability of the material for any purpose or the accuracy of the information listed here. Accordingly, ACS Material will not be responsible for damages resulting from use of or reliance upon this information.