Graphene on Ultra-fine 2000 Mesh Copper TEM Grids
Product Detail
CAS No.: 7782-42-5
ACS Material CVD Grapehen on Ultra-fine 2000 Mesh Copper TEM Grids are made by Trivial Transfer Graphene.
1. Four thicknesses of CVD graphene:
Available in either 1, 2, 3-5 or 6-8 layers
Microporous Copper TEM Grids with Beryllium-Copper Support Aperture. (6.5µm circular holes

 and a pitch of 12.5µm; transmission for this type of grid is 41%.)
3. Graphene coverage of the TEM grid is better than 75% (

The graphene coverage is typically >

75

% of the whole 3.05mm diameter TEM grid.)
The graphene film appears as a near-transparent to light-grey film on the surface of the red-brown microporous copper TEM grid. For support, the TEM grid is attached using epoxy to a gold-colored beryllium-copper disk with a 2x1mm aperture.
| | | | | |
| --- | --- | --- | --- | --- |
| Type | Thickness of Graphene | Transparency of Graphene | TEM Grid/AFM Substrate | Support Film |
| 1 Layer |  ~0.35nm |  ~96.4% | 2000 Mesh Copper Grid/Beryllium AFM Coating | N/A |
| 2 Layers |  ~0.7nm |  ~92.7% | 2000 Mesh Copper Grid/Beryllium AFM Coating | N/A |
| 3-5 Layers |  1.0-1.7nm |  ~85.8-90.4% | 2000 Mesh Copper Grid/Beryllium AFM Coating | N/A |
| 6-8 Layers |  2.1-2.8nm |  ~78.5-83.2% | 2000 Mesh Copper Grid/Beryllium AFM Coating | N/A |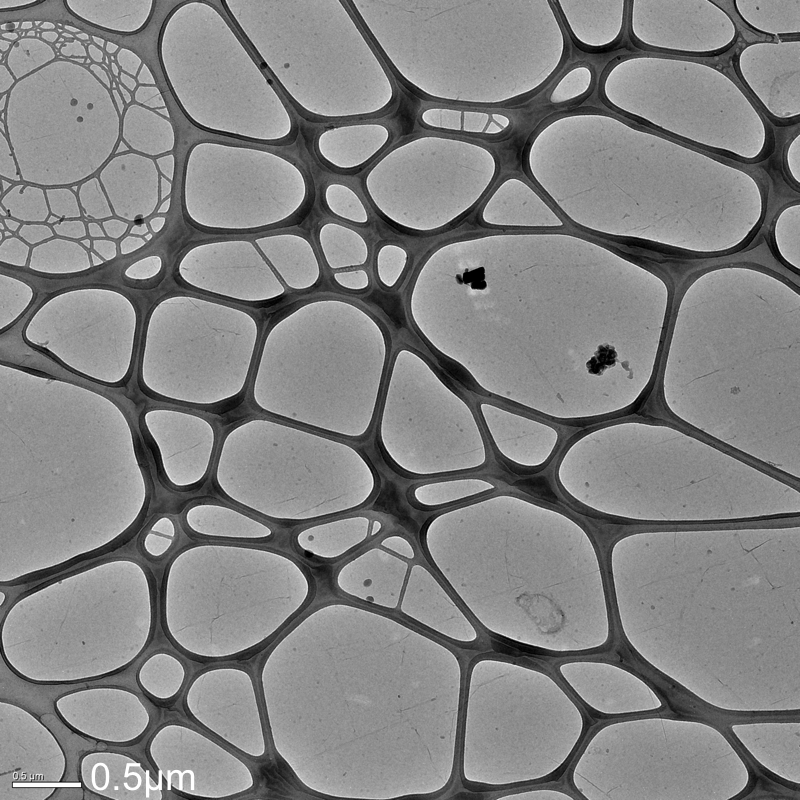 Low magnification TEM image of single-layer graphene on lacey carbon film
Typical grain size is in the region of 2 to 3 µm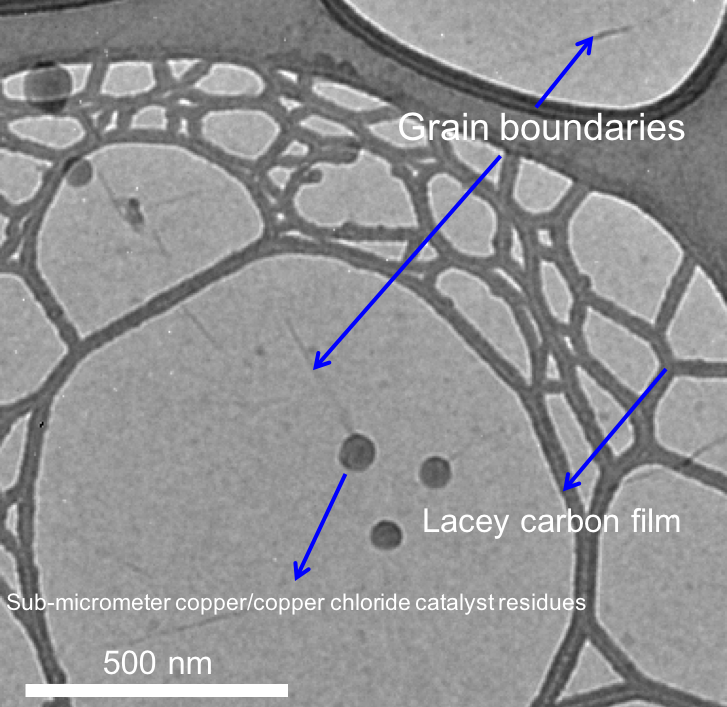 TEM Image of Single-Layer Graphene on Lacey Carbon Film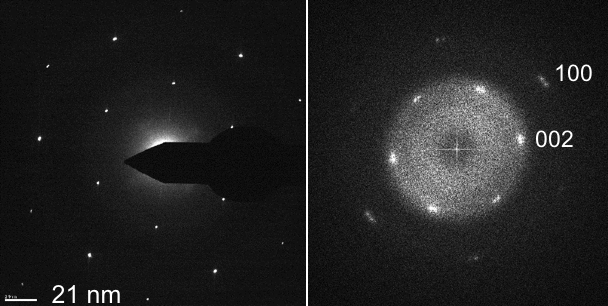 Left: SAED  Right: FFT of HR-TEM Image