Natural Graphite Nanoparticles
Graphite Nanoparticles' Natural' Thickness: 40nm' Lateral Size: 400-600nm
Product Detail
CAS No.: 7782-42-5
OLD SKU# N-GtP40n-20g
NEW SKU# CNGT0112
Natural graphite nanoparticles from ACS Material are black, spherical nanoparticles composed of high surface area graphitic carbon. High-purity natural graphite nanoparticles have 6 important characteristics that make them valuable to innovators around the world:
High temperature resistance, even after ultrahigh temp arc burning, weight loss and thermal expansion are small.
Exceptional lubrication. Our 99%+ pure natural graphite has phenomenal lubricating properties.
Outstanding electrical and thermal conductivity. Graphite performs significantly better than the average nonmetallic mineral and has better thermal conductivity than steel, iron, or lead.
High plasticity. Natural graphite can be crushed into very fine nanoparticles.
High stability. Natural graphite nanoparticles are stable and corrosion-resistant.
Excellent shock resistance. High-purity natural graphite nanoparticles can withstand dramatic swings in temperature without losing volume or cracking.
Natural Graphite Nanoparticles' Thickness: 40nm' Lateral Size: 400-600nm
1. Physical and Chemical Properties
Prepare Method
Ball-Milling

Purity

99+%

Appearance

Black

Ash content

<0.5%

Water content

0.2%

Morphology

Flaky

APS

D100<1000nm

D50<400nm

Thickness

40nm
2. Structure Features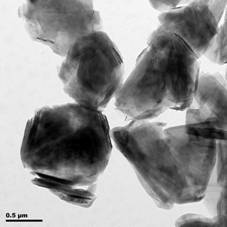 Typical TEM Image of ACS Material Natural Graphite Nanoparticles (1)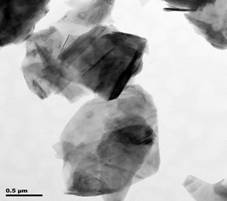 Typical TEM Image of ACS Material Natural Graphite Nanoparticles (2)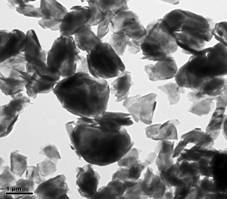 Typical TEM Image of ACS Material Natural Graphite Nanoparticles (3)
3. Application Fields
Nanographite can be used for high lubrication' high conductivity' and high adsorption rate as well as catalytic performance' chemical industry' aerospace, and other fields.
ACS Material is a leading nanotechnology company, manufacturing a wide range of exceptional carbon nanoparticles. Find the nanomaterials you need for your research at ACS Material today.
Disclaimer: ACS Material LLC believes that the information on our website is accurate and represents the best and most current information available to us. ACS Material makes no representations or warranties either express or implied, regarding the suitability of the material for any purpose or the accuracy of the information listed here. Accordingly, ACS Material will not be responsible for damages resulting from use of or reliance upon this information.
Research Citations of ACS Material Products
Dasgupta, Subho, et al. "Toward On-and-Off Magnetism: Reversible Electrochemistry to Control Magnetic Phase Transitions in Spinel Ferrites." Advanced Functional Materials, vol. 26, no. 41, July 2016, pp. 7507–7515., doi:10.1002/adfm.201603411.
Nguyen, Trung Kien, et al. "Experimental Results on Lamellar-Type Solid Lubricants in Enhancing Minimum Quantity Lubrication Machining." Journal of Manufacturing Science and Engineering, vol. 138, no. 10, 2016, p. 101011., doi:10.1115/1.4033995.
Sakthivel, Mariappan, and Jean-Francois Drillet. "An extensive study about influence of the carbon support morphology on Pt activity and stability for oxygen reduction reaction." Applied Catalysis B: Environmental 231 (2018): 62-72.