Ordered mesoporous carbon cmk-8
Synthesized by using cubic Ia3d mesoporous KIT-6 silica as the hard template
Product Detail
CAS No.: 7440-44-0
Old SKU# CMK-8-1g
New SKU# CNCM8001
1. Preparation Method
Synthesized by using cubic Ia3d mesoporous KIT-6 silica as the hard template
2. Characterizations
| | |
| --- | --- |
| Phase: | Ia3d |
| Special Surface Area (m2/g): | >500 |
| Pore diameter (nm): | 3.2-6.6 |
| Total Pore volume (cm3/g): | 0.7-1.1 |
The three-dimensional cubic ordered mesoporous carbons have been synthesized by using cubic Ia3d mesoporous KIT-6 silica as the hard template. Note that the test results may vary from batch to batch.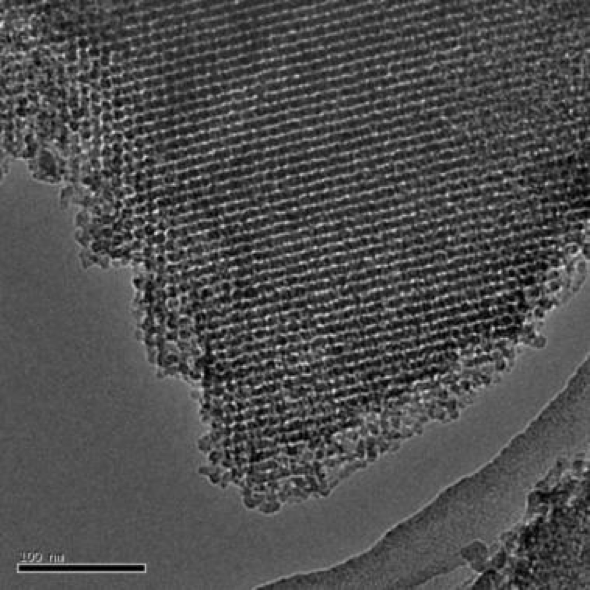 Typical TEM Image of ACS Material Ordered Mesoporous Carbon CMK-8
3. Application Fields
1)     Analytical chemistry applications
2)     Environmental applications
3)     Medical applications
4)     Fuel storage
5)     Supercapacitors
6)     Gas purification
7)     Chemical purification
8)     Distilled alcoholic beverage purification
9)     Mercury scrubbing
Research Citations of ACS Material Products
Zheng, Shiyou, et al. "Batteries: Nano-Copper-Assisted Immobilization of Sulfur in High-Surface-Area Mesoporous Carbon Cathodes for Room Temperature Na-S Batteries (Adv. Energy Mater. 12/2014)." Advanced Energy Materials, vol. 4, no. 12, 2014, doi:10.1002/aenm.201470065.

Bi, Yujing, et al. "Chemistry and Electrochemical Performance of Mg Electrolytes for Rechargeable Mg Batteries: A Study of Mg Powder Scavenger." 

ECS Transactions

, vol. 80, no. 10, 2017, pp. 343–348., doi:10.1149/08010.0343ecst.

Liu, Tianbiao. "Magnesium-based electrolyte compositions and uses thereof." U.S. Patent Application 16/033,087, filed January 17, 2019.