Ti3C2Tx MXene (multilayer nanoflakes)
Product Detail
1. Product Information
Product Name:

Ti3C2Tx MXene (multilayer nanoflakes);

multilayer Ti3C2Tx MXene;

multilayer MXene Ti3C2Tx nanoflakes;

CAS No.:

12316-56-2

Appearance:

Black Powder

Content:

Ti3C2

Thickness:

100-200 nm

Purity:

~54-68 wt%
2. Characterizations
Typical Content of ACS Material Ti3C2Tx MXhene (multilayer nanoflakes)
| | | |
| --- | --- | --- |
| Content | wt% | at% |
| C | 9.98 | 21.77 |
| O | 13.87 | 22.70 |
| F | 16.01 | 22.07 |
| Al | 1.38 | 1.34 |
| Ti | 58.75 | 32.11 |
(note: this is for reference only and it may vary from batch to batch)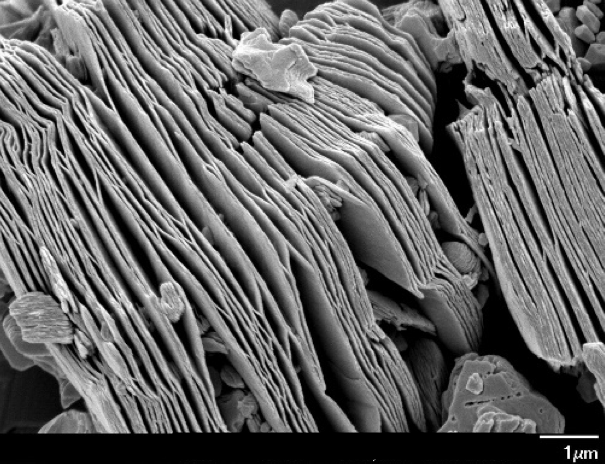 Typical SEM of ACS Material ACS Material Ti3C2Tx MXhene (multilayer nanoflakes)
3. Application Fields
Nano-adsorption
Lithium-ion battery
Supercapacitor
Biosensors
Lubrications
Ion-sieving and catalysis, etc.
4. Storage
Keep it sealed with Argon protection in a vented area at room temperature and avoid light. Shelf life is about 3 months.
Disclaimer: ACS Material LLC believes that the information on our website is accurate and represents the best and most current information available to us. ACS Material makes no representations or warranties either express or implied, regarding the suitability of the material for any purpose or the accuracy of the information listed here. Accordingly, ACS Material will not be responsible for damages resulting from use of or reliance upon this information.
FAQ
1.What are the synthesis procedures of Ti3C2Tx MXene?
The preparation procedure is to first etch the Ti3AlC2 powder raw with hydrofluoric acid. Then it is freeze-dried to obtain the powder.