Trivial Transfer® Hexagonal Boron Nitride (TTh-BN)
Product Detail
Trivial Transfer® hexagonal boron nitride is one of several exciting and innovative Trivial Transfer® product offerings from ACS Material. Using our unique and proprietary transfer method, you can accomplish a successful hexagonal boron nitride transfer onto a substrate of your choice using materials you have readily on hand and without any complicated specialized training. The Trivial Transfer® method is quick and simple, opening up vast fields of research possibilities in a matter of moments.
We offer a number of standard-sized sheets as well as customization if necessary. Call our team today with your questions about the Trivial Transfer method.
CSA No.: 10043-11-5
ACS Material provides customizing services. Please contact us if you need a different size or if you have special sample requests.
ACS Material provides you the easiest way to transfer single-layer Hexagonal Boron Nitride (h-BN) onto any substrate. All of the hard work has already been done. You can experiment with any novel substrate by using Trivial Transfer® Hexagonal Boron Nitride (TTh-BN).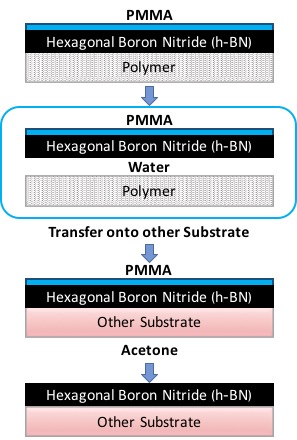 Flow Chart of ACS Material Trivial Transfer® h-BN Transfer Procedure
1. Preparation Method
CVD Method
2. Characterizations
| | |
| --- | --- |
| | Monolayer h-BN |
| Transparency | > 97% |
| hBN Coverage | 100% with sporadic adlayers |
| Raman Peak | 1370 /cm-1 |
| Bandgap | 5.97 eV |
| Grain size | >4 μm |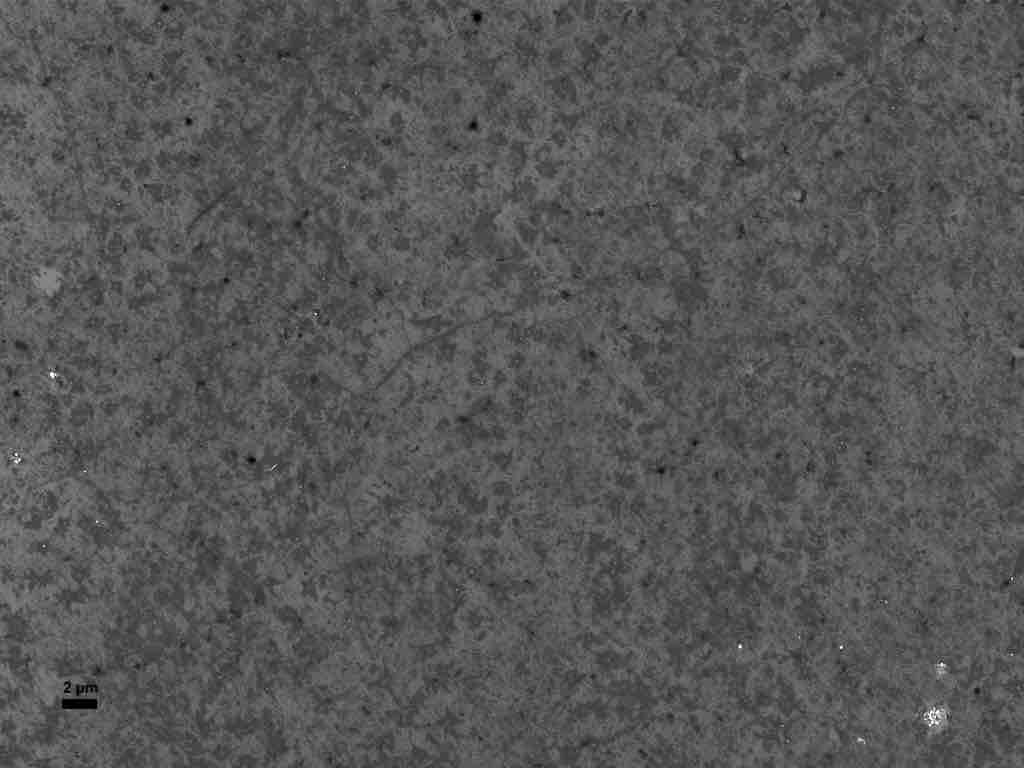 Typical SEM Image of ACS Material Monolayer TTh-BN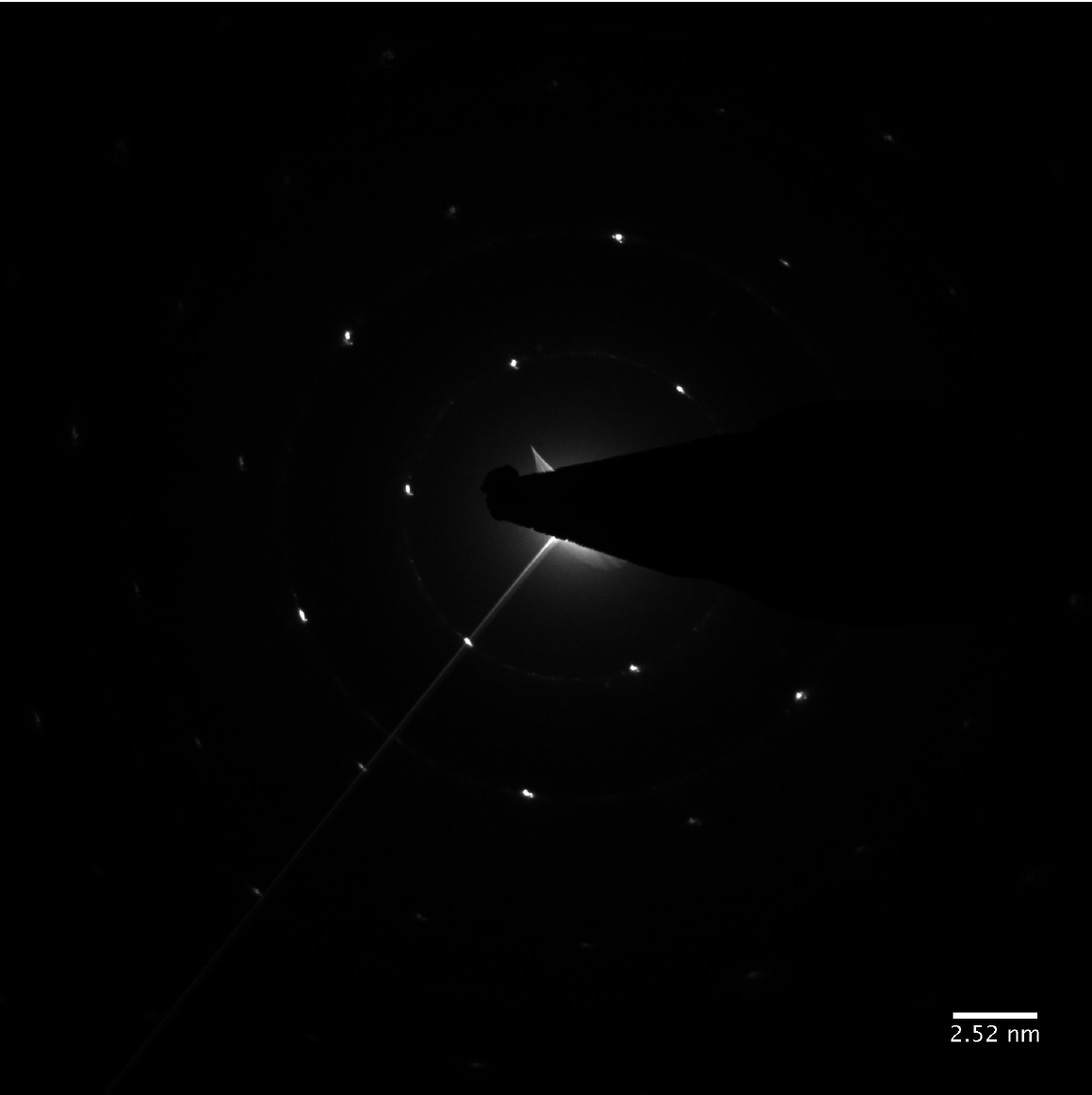 Typical Crystal Diffraction Image of ACS Material Monolayer TTh-BN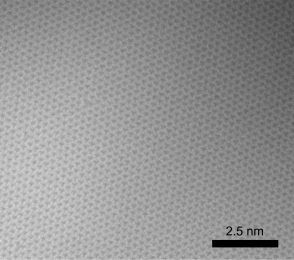 Typical TEM Image of ACS Material Monolayer TTh-BN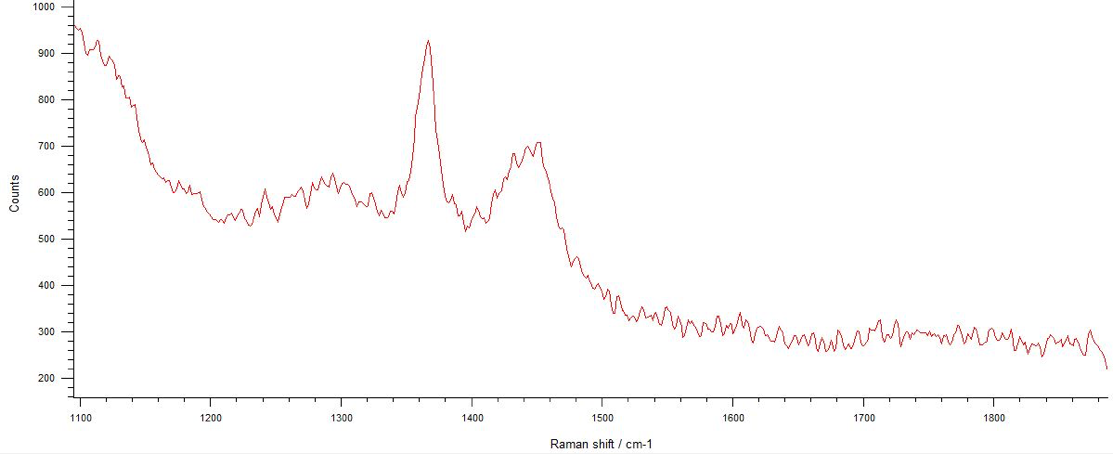 Typical Raman Spectrum of ACS Material Monolayer TTh-BN
* The indicated product metrics are generic to our transfer process. For all ACS Material products, the displayed range represents electronic data that we have obtained using our in-house transfer capabilities to transfer h-BN to SiO2. Your own metrics will depend entirely on the transfer methods that you use, and the resultant quality of your transfers.
3. Application Fields
1) Proton conductors
2) Fuel cells
3) Water electrolysis
4) Graphene-based devices
4. User Instruction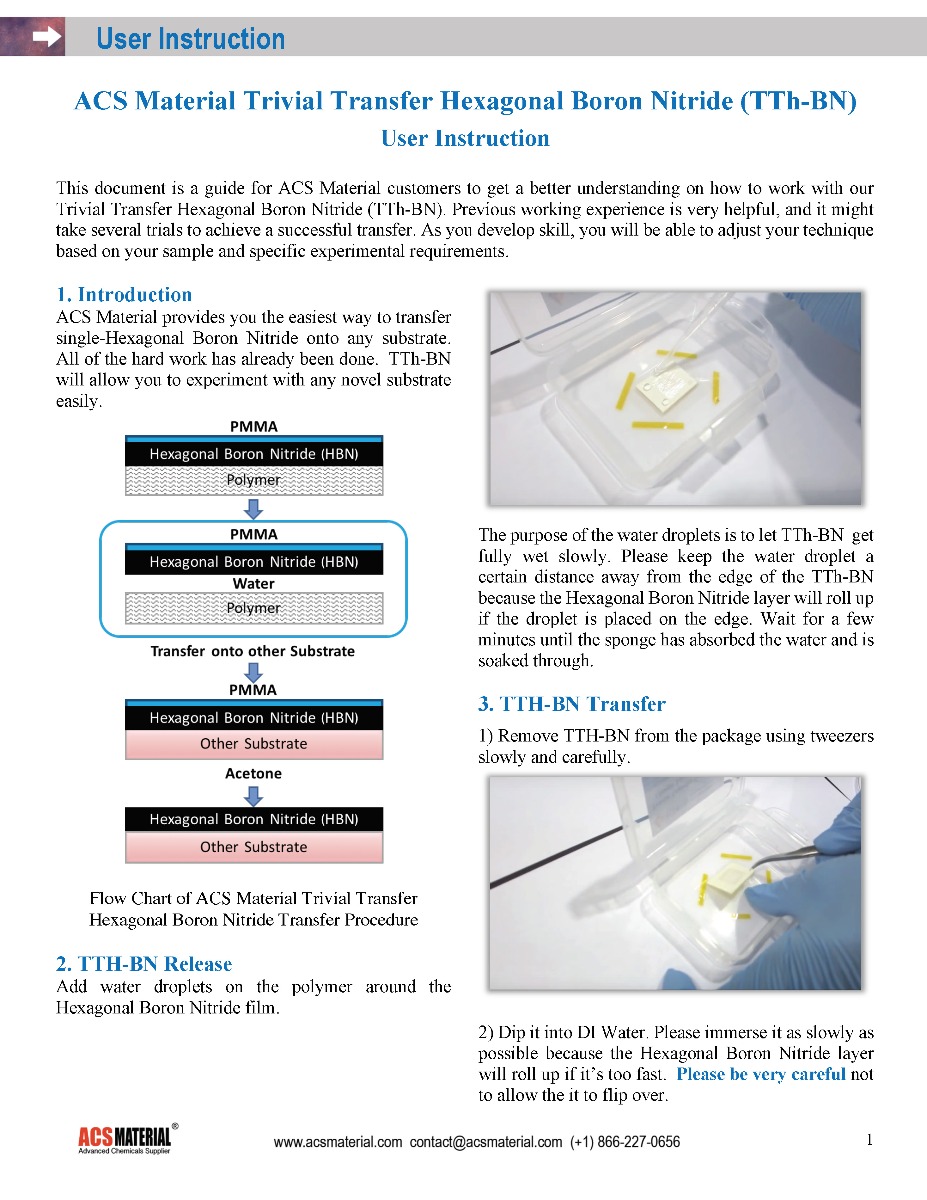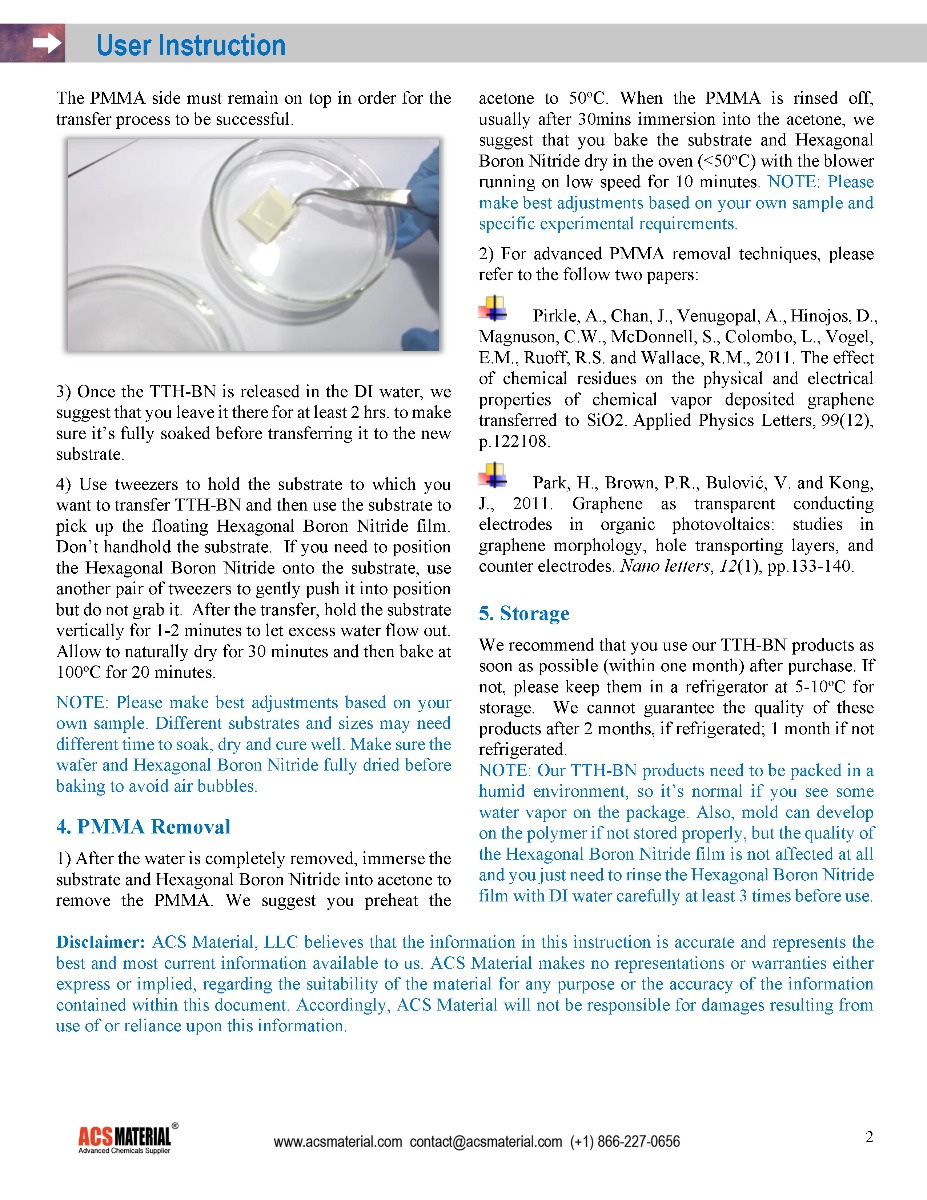 1) To ensure the maximum shelf life of your h-BN sample, it is best stored under vacuum or in inert atmosphere (Argon or Nitrogen) conditions once the vacuum sealed package has been opened.
2) Please recycle your containers when they are no longer needed.
Disclaimer: ACS Material LLC believes that the information on our website is accurate and represents the best and most current information available to us. ACS Material makes no representations or warranties either express or implied, regarding the suitability of the material for any purpose or the accuracy of the information listed here. Accordingly, ACS Material will not be responsible for damages resulting from use of or reliance upon this information.