Acetate Deiodinase Adsorbent
Acetate deiodinase zeolite molecular sieve adsorbent.
Product Detail
CAS No.: 1318-02-1
OLD SKU# ZAcDeIo-1KG
NEW SKU# MSADA031
Characterizations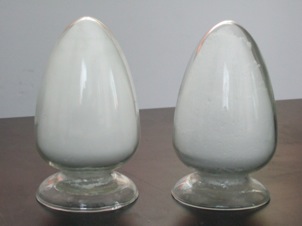 | | |
| --- | --- |
| Shape | Sphere with diameter 0.5~0.8 mm |
| Strength | >8 N |
| Chemical Composition | Molar ratio of SiO2/Al2O3 = 10~20; Ag >7% |
| Function | After treatment with the adsorbent' the content of iodine in acetic acid can be reduced to lower than 10 ppb from >50 ppb in raw acetic acid |
| Life time | >300 d |
| Packed | Knitting bag inside lining plastic bag |
This product is calcined and ready to use directly.
Application Fields
Removing trace iodine from acetic acid produced by oxo synthesis. The de-iodine acetic acid is suitable for making ethyl acetate
Disclaimer: ACS Material LLC believes that the information on our website is accurate and represents the best and most current information available to us. ACS Material makes no representations or warranties either express or implied, regarding the suitability of the material for any purpose or the accuracy of the information listed here. Accordingly, ACS Material will not be responsible for damages resulting from use of or reliance upon this information.