Copper Nanowire (50-200nm), 1g
The diameter of copper nanowire is about 150nm' and the length is in the range of 1-10 micron
Product Detail
CAS No.: 7440-50-8 (copper), 64-17-5 (ethanol); 7789-20-0 (water)
ACS Material is a leading supplier of nanomaterials to laboratories and innovative companies around the world. Our copper nanowire dispersed in ethanol has exceptional shape memory properties, can be used to create low-cost transparent conductors, and is ideal for a number of other applications, including the following:
Optical: solar, medical imaging, surface enhanced spectroscopy, optical limiters
Conductive: high-intensity LEDs' touchscreens' conductive adhesives' sensors
Antimicrobial: air & water purification' bandages' films' food preservation' clothing
Chemical & Thermal: catalysts' pastes' conductive adhesives' polymers, chemical vapor sensors
The diameter of copper nanowire is about 150nm and the length is in the range of 10-30 microns. It's made to conform to the highest standards of quality and purity. When you buy copper nanowire and other nanomaterials from ACS Material, you can be certain you're getting the finest product at the best possible price.
Key features of the Copper Nanowire:
| | |
| --- | --- |
| Product Name: | Copper Nanowire |
| Appearance: | Red suspension |
| Diameter: | 50-200 nm |
| Length: | 10-30 µm |
| Concentration: | ~10 mg/ml |
| Solution: | Ethanol/Water* |
| Purity: | ~99% |
*ACS can also provide it in water dispersion. Contact us for more information.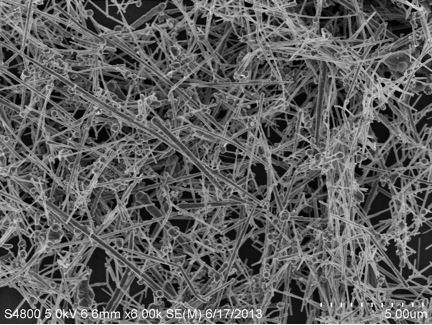 SEM Image of Copper Nanowire -- ACS Material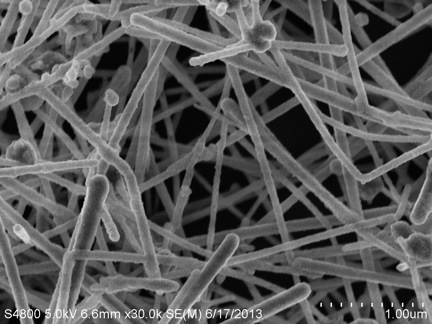 SEM Image of Copper Nanowire -- ACS Material
Applications
Optical Applications: Solar; Medical imaging; Surface enhanced spectroscopy; Optical limiters
Conductive Applications: High-intensity LEDs' Touch screens' Conductive adhesives' Sensors
Anti-microbial Applications: Air & water purification' Bandages' Films' Food preservation' Clothing
Chemical & Thermal: Catalysts' Pastes' Conductive adhesives' Polymers; Chemical vapor sensors
Storage
Sealed and keep refrigerated at 4oC. Shelf Life is one month under proper storage and recommend using it as soon as possible.
Instruction
It's normal that copper nanowire may precipitate in the bottle. Please sonicate it at 300W for a maximum of 3mins before use. If you use 600-800W, please keep the sonication time under 1mins. Gently stirring it may also help.
Note:
OLD SKU#: CuNwEth-1g
NEW SKU#: NWCUE101
Disclaimer: ACS Material LLC believes that the information on our website is accurate and represents the best and most current information available to us. ACS Material makes no representations or warranties either express or implied, regarding the suitability of the material for any purpose or the accuracy of the information listed here. Accordingly, ACS Material will not be responsible for damages resulting from use of or reliance upon this information.
Research Citations of ACS Material Products
Hwang, Chihyun, et al. "All-in-One assembly based on 3D-Intertangled and cross-Jointed architectures of Si/Cu 1D-Nanowires for lithium ion batteries." Scientific Reports, vol. 5, no. 1, 2015, doi:10.1038/srep08623.