Copper Nanowire in Water (1g)
The diameter of copper nanowire is about 150nm' and the length is in the range of 0.8-6 micron
Product Detail
 CAS No.: 7440-50-8 (copper), 7789-20-0 (water)
OLD SKU#: CuNwH2O-1g
NEW SKU#: NWCUW101
ACS Material is a leading manufacturer and supplier of innovative nanomaterials to universities, laboratories, and businesses around the world. Copper nanowire dispersions are an important component of our nanomaterial series. Our copper nanowire dispersed in water has a diameter of about 150nm and the length is in the 0.8-6 micron range.
The full range of possibilities for copper nanowires in water remains a subject for extensive research, but potential applications include:
Optical: solar, medical imaging, surface enhanced spectroscopy, optical limiters
Conductive: high-intensity LEDs' touchscreens' conductive adhesives' sensors
Antimicrobial: air & water purification' bandages' films' food preservation' clothing
Chemical & Thermal: catalysts' pastes' conductive adhesives' polymers, chemical vapor sensors
All copper nanowire in dispersions from ACS Material are made to conform to the highest standards of quality and purity. When you buy copper nanowire and other nanomaterials from ACS Material, you can be certain you're getting the finest product at the best possible price.
Key features of the Copper Nanowire:
| | |
| --- | --- |
| Carrier | Water |
| Appearance | Red Dispersion |
| Average diameter | 100-200 nm |
| Length | 0.8-6 µm |
| Purity | ≥96.5 |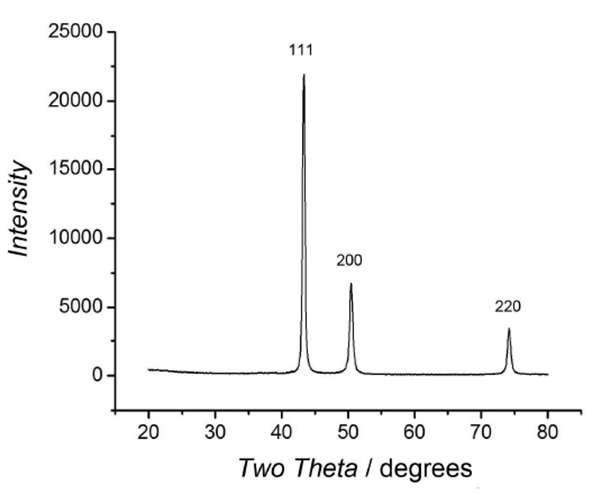 XRD of Typical ACS Material Copper Nanowire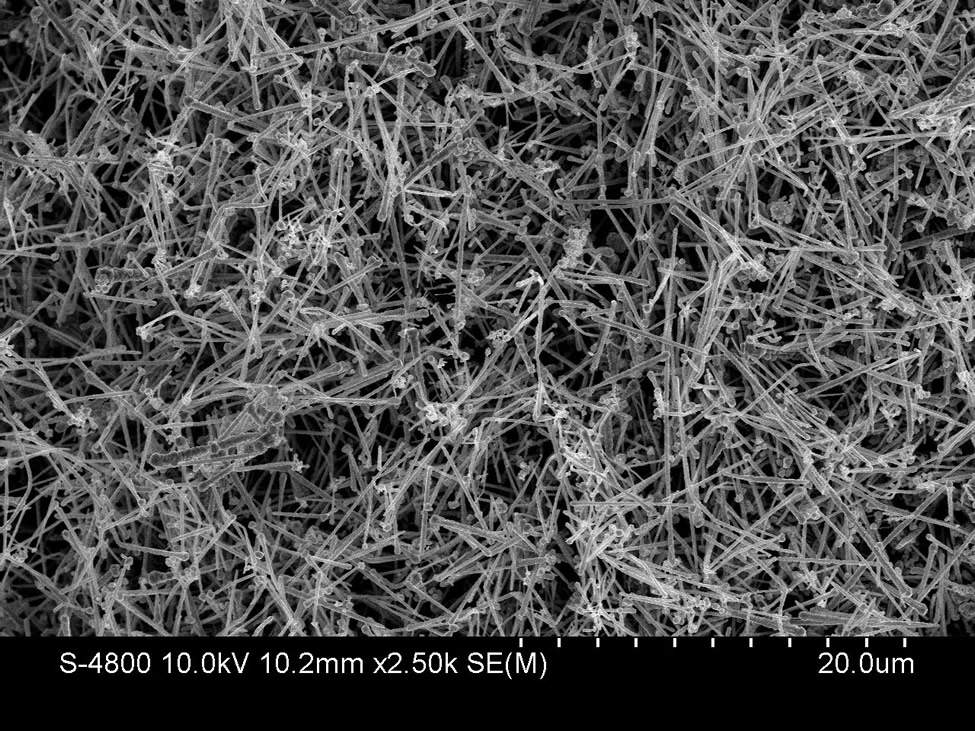 SEM Image of Copper Nanowire in Water -- ACS Material
Applications
Optical Applications: Solar; Medical imaging; Surface enhanced spectroscopy; Optical limiters
Conductive Applications: High-intensity LEDs' Touch screens' Conductive adhesives' Sensors
Anti-microbial Applications: Air & water purification' Bandages' Films' Food preservation'  Clothing
Chemical & Thermal: Catalysts' Pastes' Conductive adhesives' Polymers; Chemical vapor sensors
Research Citations of ACS Material Products
Hwang, Chihyun, et al. "All-in-One assembly based on 3D-Intertangled and cross-Jointed architectures of Si/Cu 1D-Nanowires for lithium ion batteries." Scientific Reports, vol. 5, no. 1, 2015, doi:10.1038/srep08623.