Product Detail
CAS No.: 7631-86-9
OLD SKU#: FDU12-20g
NEW SKU#: MSFD1212
FDU-12 is a three-dimensional mesoporous material with a superior 3D channel, which is ideal for mass transfer and guest molecule diffusion. It is a large-pore silica; a highly structured and face-centric cubic mesoporous material. Like other similar molecular sieve materials, FDU-12 has physical characteristics such as a well-ordered pore structure, ultra-large pore diameter (10-26nm), and high surface area that make it mechanically and thermally stable. FDU-12 is widely used in biotechnology, immobilization, separation, and adsorption as a catalyst carrier; it is well-suited to this task because of its high surface area and strictly ordered long-range pore channels. Additionally, FDU-12 has a large cage pore size and finely tuned pore diameters that help with the transfer of products and reactants.
The hydrothermically synthesized, fully calcinated FDU-12 available from ACS Material is ideally suited to a variety of applications, including adsorption, catalysis, energy storage, and the manufacturing of nanodevices. FDU-12, graphene, and other advanced nanomaterials from ACS Material are manufactured to meet the highest quality standards. Call today to ask about FDU-12 or any of our cutting-edge research materials.
Preparation Method
Hydrothermal Method
Characterizations
| | |
| --- | --- |
| Form: | Powder |
| Ave. Pore Diameter (nm): | 10.0 |
| BET Surface Area (m2/g): | ~600 |
| Entrance Size (nm): | 3.8 |
| Pore Volume (cm3/g): | 0.66 |
| Na2O (%): | ≤1.0 |
| Phase | f.c.c. |
| Particle Size (μm): | 2-3 |
This product is calcined and ready to use directly.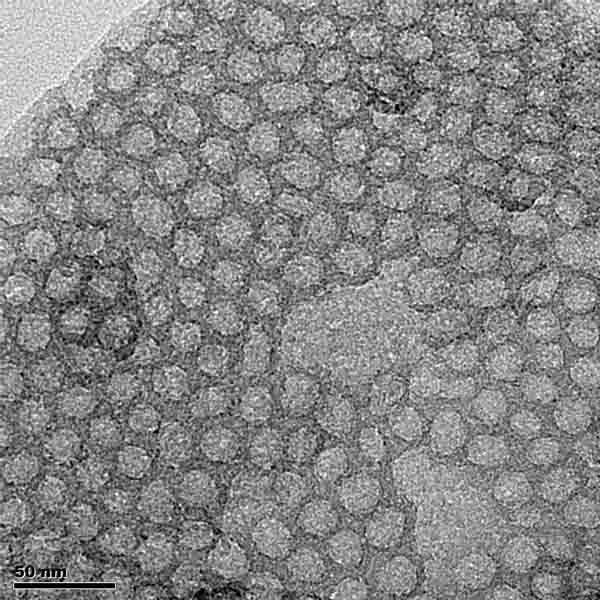 Typical TEM of ACS Material FDU-12
Application Fields
1) Catalyst
2) Adsorbent
Disclaimer: ACS Material LLC believes that the information on our website is accurate and represents the best and most current information available to us. ACS Material makes no representations or warranties either express or implied, regarding the suitability of the material for any purpose or the accuracy of the information listed here. Accordingly, ACS Material will not be responsible for damages resulting from use of or reliance upon this information.