Product Detail
CAS No.: 7631-86-9
OLD SKU#: FDU12-20g
NEW SKU#: MSFD1212
FDU-12 is a three-dimensional mesoporous material with a superior 3D channel ideal for mass transfer and guest molecule diffusion. It is a large pore silica with a highly-structured, face-centric cubic mesoporous material. Like other similar molecular sieve materials, FDU-12 has physical characteristics such as a well-ordered pore structure, ultra-large pore diameter (10-26nm), and high surface area that make it mechanically and thermally stable. FDU-12 is widely used in biotechnology, immobilization, separation, and adsorption as a catalyst carrier; it's well-suited to this task because of its high surface area and strictly-ordered long range pore channels. Additionally, FDU-12 has a large cage pore size and finely tuned pore diameters that help with the transfer of products and reactants.
The hydrothermically synthesized, fully calcinated FDU-12 available from ACS Materials is ideally suited to a variety of applications, including adsorption, catalysis, energy storage, and the creation of nanodevices.
1. Preparation Method
Hydrothermal Method
2. Characterizations
| | |
| --- | --- |
| Form: | Powder |
| Ave. Pore Diameter (nm): | 10.0 |
| BET Surface Area (m2/g): | ~600 |
| Entrance Size (nm): | 3.8 |
| Pore Volume (cm3/g): | 0.66 |
| Na2O (%): | ≤1.0 |
| Phase | f.c.c. |
| Particle Size (μm): | 2-3 |
This product is calcined and ready to use directly.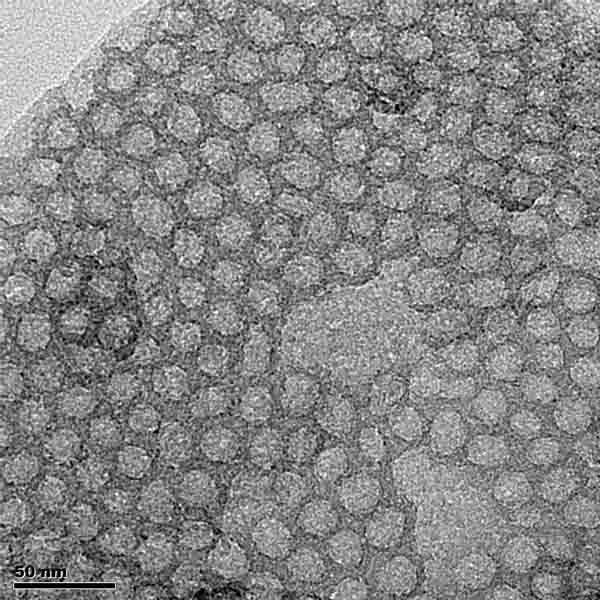 Typical TEM of ACS Material FDU-12
3. Application Fields
1) Catalyst
2) Adsorbent