Graphdiyne Monomer HEB-TMS
Product Detail
CAS No.: 154702-15-5
The fascinating world of carbon allotropes just keeps getting bigger. Graphdiyne is a novel two-dimensional material and is a close cousin of other allotropes, such as carbon nanotubes, fullerenes, and graphene. In 2010, Li Yuliang successfully synthesized a high-quality graphene film on the surface of copper foil. This was accomplished using a cross-coupling reaction of a hexamethylene benzene precursor. Graphdiyne monomer HEB-TMS has strong carbon chemical bonds, wide interplanar spacing, and superior chemical stability. Its distinctive sp-sp2 carbon atoms, uniform pore distribution and size, and high π-conjugated structure make it uniquely suited for broad use across a variety of applications and industries.
Product Name:

Graphdiyne hexakis[(trimethylsilyl)-ethynyl]benzene (HEB-TMS) Monomer;

Graphdiyne Monomer HEB-TMS; Graphdiyne HEB-TMS Monomer; GDY Monomer HEB-TMS

CAS No.:

154702-15-5

Appearance:

Light Yellow Powder
Characterizations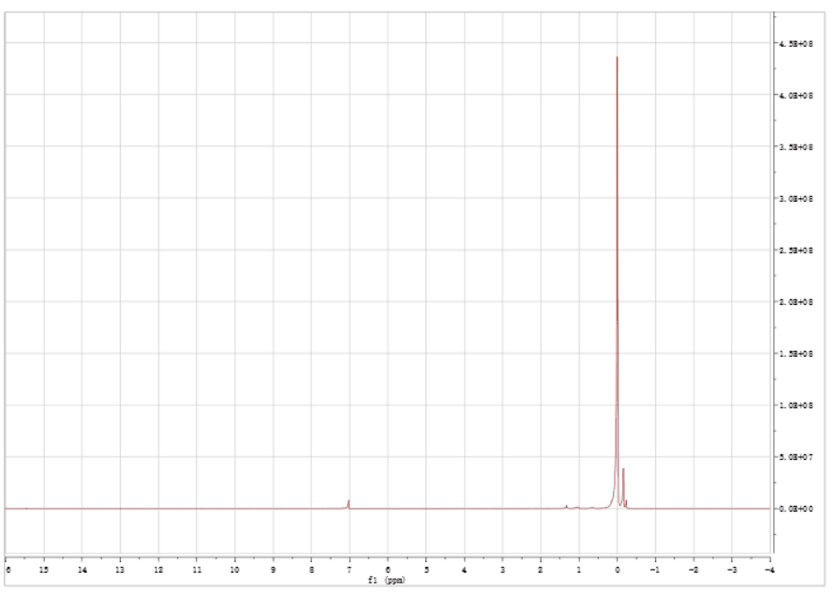 Typical NMR Spectroscopy of ACS Material Graphdiyne Monomer HEB-TMS
Application Fields
Helium Chemical and isotopic separation
Water filtration and purification technologies
Two-dimensional membrane
Develop faster Transistors and nanoscale electronic devices
Sensors and Field effect transistors (FETs)
Disclaimer: ACS Material LLC believes that the information on our website is accurate and represents the best and most current information available to us. ACS Material makes no representations or warranties either express or implied, regarding the suitability of the material for any purpose or the accuracy of the information listed here. Accordingly, ACS Material will not be responsible for damages resulting from use of or reliance upon this information.
ACS Material is pleased to offer graphdiyne monomer HEB-TMS among many other advanced nanomaterials. We're on the cutting edge of nanomaterial production and we carry the latest research-grade nanomaterials available. Our production methods are proven to produce consistent results, making us a trusted supplier for the finest labs around the world. Shop ACS Material today for your graphdiyne monomer HEB-TMS needs.