Product Detail
The past few years have seen significant advancement in the fabrication and development of new and interesting carbon allotropes. In 2010, a carbon allotrope called graphdiyne (GDY) was synthesized via a cross-coupling reaction onto the surface of copper. GDY is a 2-D carbon allotrope made up of sp and sp2 hybridized carbon atoms with adjacent hexagons connected by double acetylene links. It distinguishes itself from graphene by having a natural band gap of 0.47 eV. Research suggests that graphdiyne has the potential to be the most stable diacetylenic carbon allotrope; GDY demonstrates high thermal resistance, high electrical conductivity, and tremendous hardness.
Researchers into the potential of GDY are just beginning to tap into this synthetically approachable material. Proposed applications include lithium storage and gas separation as well as use in electronic components such as transistors.
ACS Material is always on the leading edge of nanomaterials, providing our customers around the world with the most advanced research materials available. We're excited to offer graphdiyne powder as well as graphene and other promising nanomaterials. Shop ACS Material today.
| | |
| --- | --- |
| Product Name: | Graphdiyne (Graphyne-2), GDY |
| CAS No.: | 154702-15-5 |
| Appearance: | Black Powder |
| Lateral Size (nm): | 40-200 |
Characterizations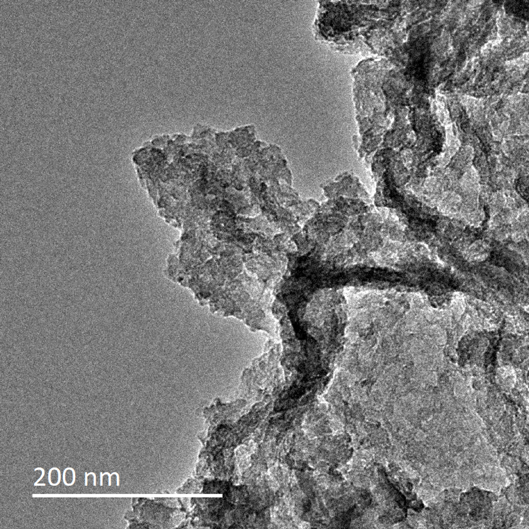 Typical TEM Image of ACS Material Graphidyne Powder

XPS Analysis of ACS Material Graphidyne Powder
Application Fields
Helium Chemical and isotopic separation
Water filtration and purification technologies
Two-dimensional membrane
Develop faster Transistors and nanoscale electronic devices
Sensors and Field effect transistors (FETs)
Disclaimer: ACS Material LLC believes that the information on our website is accurate and represents the best and most current information available to us. ACS Material makes no representations or warranties either express or implied, regarding the suitability of the material for any purpose or the accuracy of the information listed here. Accordingly, ACS Material will not be responsible for damages resulting from use of or reliance upon this information.