Industrial-Grade Graphene Oxide
Product Detail
CAS-No.: 7782-42-5
Three-dimensional graphene oxide is the starting point for a number of exciting nanomaterials produced by ACS Material. Graphite is a 3-D allotrope of carbon composed of millions of layers of graphene; conversely, graphene can be defined as a single layer of carbon atoms exfoliated from graphite. Graphene oxide is a bit different; when graphene is treated with strong oxidizers, sulfuric acid for example, the oxidizers react with the graphene by removing an electron. This reaction, where the reactant is oxidized and the oxidizing agent is reduced, is called a redox reaction. The redox reaction changes—oxidizes—the graphene, separating the layers and making the graphene hydrophilic. Once the graphene is hydrophilic, individual layers can be exfoliated in water using sonication; exfoliated single layers are graphene oxide while multiple layers are graphene oxide. As a nontraditional compound that has become a major player in the evolving world of technology, graphene oxide is responsible for the creation of many graphene-based materials. Among other things, graphene is used to ensure electrical equipment functions properly, which makes graphene oxide incredibly important.
When it comes to ensuring your business is operating at maximum capacity, it's important that you equip yourself with reliable products that are sure to deliver results. Industrial-grade graphene oxide from ACS Material, prepared via a modified version of the Hummers' method, can benefit those hoping to strengthen their supercapacitor or water purification technologies. We guarantee that the graphene oxide you receive is of the highest quality. Our solid reputation for consistently providing products that meet the most rigorous standards for quality and purity has earned us the trust of leading research institutions around the world.
Preparation Method
Modified Hummer's Method
Characterizations
| | |
| --- | --- |
| Grade: | Industrial Grade |
| Appearance: | Brownish Yellow Powder |
| Purity: | N/A |
| Lateral size: | 0.2-10 μm |
| Thickness: | ~2 nm |
| pH (1mg/mL): | ~3.57 |
| Singer layer Ratio: | >95% |
| Carbon Content: | ~42.7 wt.% |
| Oxygen Content: | ~51.6 wt.% |
| Sulfur Content: | <2.1 wt.% |
| Ash Content | <1.0 wt.% |
| Tap Density: | ~0.50 g/mL |
| Grain Size (mesh): | <80 |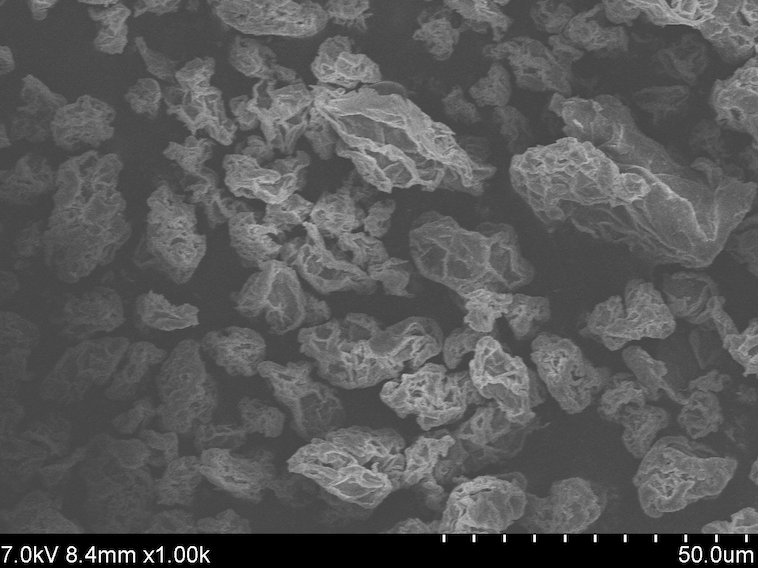 Typical SEM of ACS Material Graphene Oxide (Industrial Grade)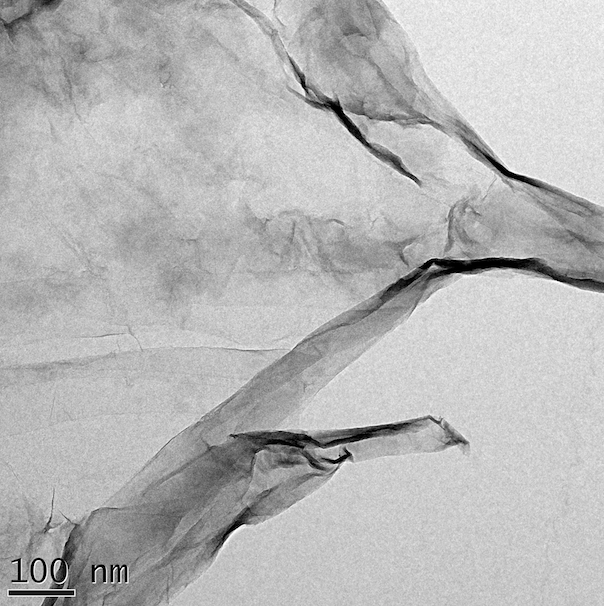 Typical TEM of ACS Material Graphene Oxide (Industrial Grade)
Application Fields
1) Preparation of graphene
2) Solar energy
3) Graphene semiconductor chips
4) Conductive graphene film
5) Graphene computer memory
6) Biomaterials
7) Transparent conductive coatings
Disclaimer: ACS Material LLC believes that the information on our website is accurate and represents the best and most current information available to us. ACS Material makes no representations or warranties either express or implied, regarding the suitability of the material for any purpose or the accuracy of the information listed here. Accordingly, ACS Material will not be responsible for damages resulting from use of or reliance upon this information.
Research Citations of ACS Material Products
Berning, T.; Bessarabov, D. GOMEA: A Conceptual Design of a Membrane Electrode Assembly for a Proton Exchange Membrane Electrolyzer. Membranes 2023, 13, 614. https://doi.org/10.3390/membranes13070614