Nano Size Monolayer Molybdenum Disulfide (MoS2)
Single Layer MoS2 Nano Powder and Dispersion
Product Detail
CAS No.: 1317-33-5
Product Name
Type
Concentration
Stabilizer
Package
SKU
Nano Size Monolayer Molybdenum Disulfide (MoS2)
Powder

-

-

200mg

MOS2PN002

-

-

500mg

MOS2PN005
Water Dispersion
1mg/ml
LIOH

200ml

GLMSWNA2
1mg/ml
LIOH
500ml
GLMSWNA5
Ethanol Dispersion
1mg/ml
LIOH
200ml
GLMSENA2
1mg/ml
LIOH
500ml
GLMSENA5
1. Preparation Method
Lithium-based Intercalation Method
2. Characterizations
| | |
| --- | --- |
| Composition: | Monolayer Molybdenum disulfide with small size |
| Appearance: | Black powder or dispersion |
| Diameter: | 20-500 nm' mainly concentrate in 100-200 nm |
| Thickness: | ~1 nm |
| Monolayer ratio: | >=90% |
XRD (1) of ACS Material Monolayer Molybdenum Disulfide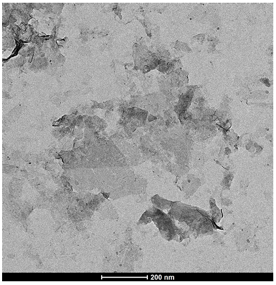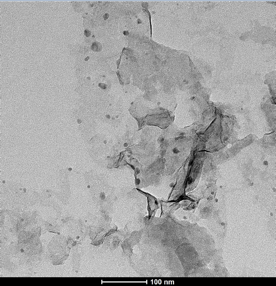 TEM Image (2) of ACS Material Monolayer Molybdenum Disulfide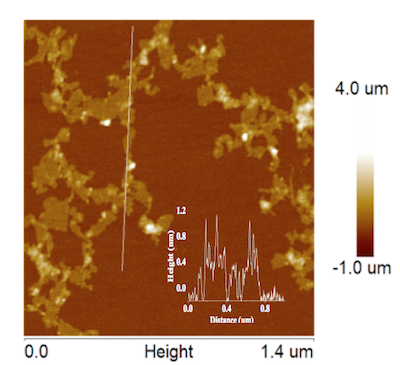 AFM Image (3) of ACS Material Monolayer Molybdenum Disulfide
3. Application Fields
Secondary batteries'field-effect transistors' sensors' organic light-emitting diodes' memory.
Monolayer Nano Molybdenum disulfide will be supplied as powder or dispersion' and it has good solubility in water and ethanol. The dispersion concentration of Monolayer Nano Molybdenum disulfide in water will be adjustable in 0.1mg- 5 mg/ml. If you have any questions' please contact us' and we will try our best to provide the solutions for you.
Disclaimer: ACS Material LLC believes that the information on our website is accurate and represents the best and most current information available to us. ACS Material makes no representations or warranties either express or implied, regarding the suitability of the material for any purpose or the accuracy of the information listed here. Accordingly, ACS Material will not be responsible for damages resulting from use of or reliance upon this information.
Research Citations of ACS Material Products
Lu, Chang, et al. "Comparison of MoS2, WS2, and Graphene Oxide for DNA Adsorption and Sensing." Langmuir, vol. 33, no. 2, May 2017, pp. 630–637., doi:10.1021/acs.langmuir.6b04502.
Wang, Liu, et al. "Transition Metal Dichalcogenide Nanosheets for Visual Monitoring PCR Rivaling a Real-Time PCR Instrument." ACS Applied Materials & Interfaces, vol. 10, no. 5, 2018, pp. 4409–4418., doi:10.1021/acsami.7b15746.
Giust, Davide, María Isabel Lucío, Otto L. Muskens, and Antonios G. Kanaras. "Interactions of DNA coated upconversion nanoparticles with 2D materials." In Colloidal Nanoparticles for Biomedical Applications XIII, vol. 10507, p. 105070U. International Society for Optics and Photonics, 2018.
Lau, K. Y., A. A. Latif, MH Abu Bakar, F. D. Muhammad, M. F. Omar, and M. A. Mahdi. "Mechanically deposited tungsten disulfide saturable absorber for low-threshold Q-switched erbium-doped fiber laser." Applied Physics B 123, no. 8 (2017): 221.
Liu, Yibo, and Juewen Liu. "Hybrid nanomaterials of WS 2 or MoS 2 nanosheets with liposomes: biointerfaces and multiplexed drug delivery." Nanoscale 9, no. 35 (2017): 13187-13194.