Pyrolytic Graphite Powder
Product Detail
CAS-No.: 7782-42-5
1. Preparation Method
Ball-milling method.
2. Characterizations
| | |
| --- | --- |
| Particle size: | <50 μm |
| C content: | 100% |
| Density: | 0.6 g/cm3 |
| Melting point: | ≥3400℃ |
| Maximum operating temperature: | 2300℃ |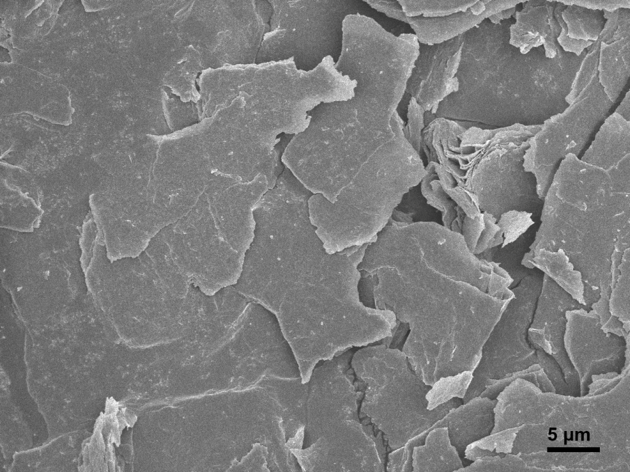 Typical SEM Image of ACS Material Pyrolytic Graphite Powder
3. Application Fields
Monochromator for neutron and X-ray scattering studies, biomedicine, military, plastics and metals reinforce, electronic thermal management, thermal interface material, friction adding etc.
Disclaimer: ACS Material LLC believes that the information on our website is accurate and represents the best and most current information available to us. ACS Material makes no representations or warranties either express or implied, regarding the suitability of the material for any purpose or the accuracy of the information listed here. Accordingly, ACS Material will not be responsible for damages resulting from use of or reliance upon this information.
FAQ
1. Can Pyrolytic Graphite Powder be suspended in an epoxy or urethane and poured into a shape?
Yes.
2. Is Pyrolytic Graphite highly diamagnetic?
Pyrolytic Graphite powder is a kind of weak magnetic material, and it's regarded as a material with relatively high diamagnetism among weak magnetic materials.
Research Citations of ACS Material Products
1. Ellingsen, Linda, Alex Holland, Jean-Francois Drillet, Willi Peters, Martin Eckert, Carlos Concepcion, Oscar Ruiz et al. "Environmental screening of electrode materials for a rechargeable aluminum battery with an AlCl3/EMIMCl electrolyte." Materials 11, no. 6 (2018): 936.