Product Detail
CAS No.: 1318-02-1
| | | |
| --- | --- | --- |
| Product: SAPO-34 | 100g | 1000g |
| Old SKU#: | SAPO34-100g | SAPO34-1Kg |
| New SKU#: | MSSA3421 | MSSA3431 |
Please contact us for a quote if your order quantity is larger than 5kg.
Linear formula
(SiO2)x(Al2O3)y(P2O5)z
Description
The crystal structure of SAPO-34' a micro pore zeolite' is similar to that of chabazite and has a special water absorbing capacity and bronsted acidity. This can be used as an adsorbent' catalyst and catalyst support in applications with low carbon olefin transfer' auto gas purification' MTO reactions' etc.
Technical parameters
| | |
| --- | --- |
| Appearance | White Powder |
| Bulk Density (g/ml) | 0.463 |
| Tap Density (g/ml) | 0.826 |
| Specific Surface Area (m2/g) | ≥550 |
| Pore Volume (cm3/g) | ≥0.27 |
| Average Particle Size (μm) | ~2 |
| SiO2/Al2O3 Molar Ratio | ~0.5 |
| SiO2 (wt%) | ~10 |
| Al2O3 (wt%) | ~42 |
| Na2O(wt%) | ≤0.1 |
| Cation | H |
This product is calcined and ready to use directly.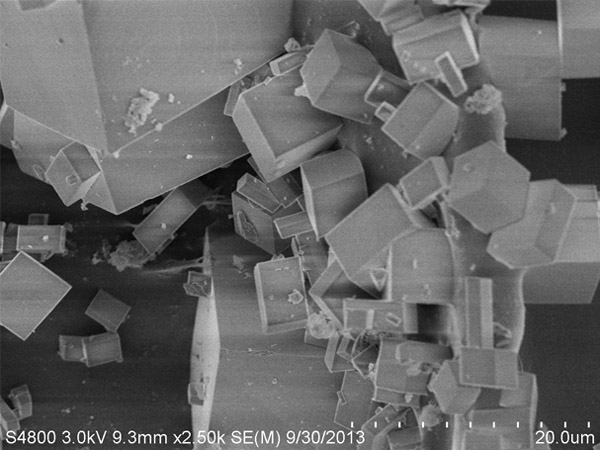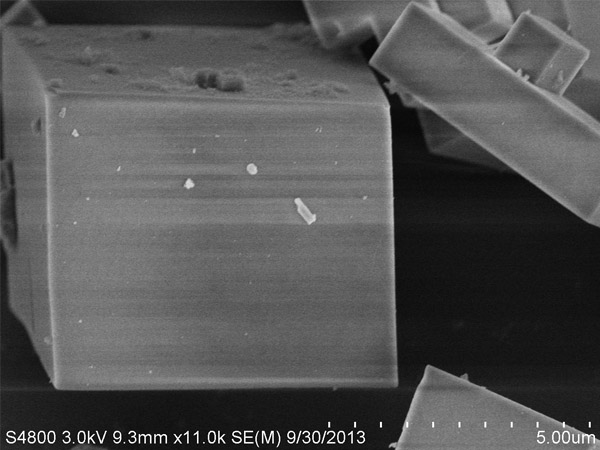 Disclaimer: ACS Material LLC believes that the information on our website is accurate and represents the best and most current information available to us. ACS Material makes no representations or warranties either express or implied, regarding the suitability of the material for any purpose or the accuracy of the information listed here. Accordingly, ACS Material will not be responsible for damages resulting from use of or reliance upon this information.
FAQ
What is the calcination temperature of SAPO-34?
It is 550 Celsius.
Research Citations of ACS Material Products
Wang, Di, et al. "NH3-SCR over Cu/SAPO-34 – Zeolite acidity and Cu structure changes as a function of Cu loading."

Catalysis Today

, vol. 231, 2014, pp. 64–74., doi:10.1016/j.cattod.2013.11.040.

Verboekend, Danny, et al. "Hierarchical Silicoaluminophosphates by Postsynthetic Modification: Influence of Topology, Composition, and Silicon Distribution."

Chemistry of Materials

, vol. 26, no. 15, 2014, pp. 4552–4562., doi:10.1021/cm501774s.

Gao, Feng, et al. "Synthesis and evaluation of Cu/SAPO-34 catalysts for NH 3 -SCR 2: Solid-State ion exchange and one-Pot synthesis."

Applied Catalysis B: Environmental

, vol. 162, 2015, pp. 501–514., doi:10.1016/j.apcatb.2014.07.029.

Wang, Di, et al. "A comparison of hydrothermal aging effects on NH3-SCR of NOx over Cu-SSZ-13 and Cu-SAPO-34 catalysts."

Applied Catalysis B: Environmental

, vol. 165, 2015, pp. 438–445., doi:10.1016/j.apcatb.2014.10.020.

Andonova, Stanislava, et al. "The effect of iron loading and hydrothermal aging on one-Pot synthesized Fe/SAPO-34 for ammonia SCR."

Applied Catalysis B: Environmental

, vol. 180, 2016, pp. 775–787., doi:10.1016/j.apcatb.2015.07.007.

Ahmad, N. N. R., et al. "Effect of different organic amino cations on SAPO-34 for PES/SAPO-34 mixed matrix membranes toward CO2/CH4 separation."

Journal of Applied Polymer Science

, vol. 133, no. 18, 18 Jan. 2016, doi:10.1002/app.43387.

Simonetti, Marco, et al. "Experimental testing of the buoyant functioning of a coil coated with SAPO34 zeolite, designed for solar DEC (Desiccant Evaporative Cooling) systems of buildings with natural ventilation."

Applied Thermal Engineering

, vol. 103, 2016, pp. 781–789., doi:10.1016/j.applthermaleng.2016.02.072.

Bruce, Spencer M., et al. "Small pore zeolite catalysts for furfural synthesis from xylose and switchgrass in a γ-Valerolactone/Water solvent."

Journal of Molecular Catalysis A: Chemical

, vol. 422, 2016, pp. 18–22., doi:10.1016/j.molcata.2016.02.025.

Youssef, Peter G., et al. "Numerical simulation of combined adsorption desalination and cooling cycles with integrated evaporator/Condenser."

Desalination

, vol. 392, 2016, pp. 14–24., doi:10.1016/j.desal.2016.04.011.

Van Der Perre, Stijn, et al. "Intensified Biobutanol Recovery by using Zeolites with Complementary Selectivity."

ChemSusChem

, vol. 10, no. 14, May 2017, pp. 2968–2977., doi:10.1002/cssc.201700667.

Mohshim, Dzeti Farhah, et al. "A study on carbon dioxide removal by blending the ionic liquid in membrane synthesis."

Separation and Purification Technology

, 2017, doi:10.1016/j.seppur.2017.06.034.

Borodina, E., et al. "Influence of the Reaction Temperature on the Nature of the Active and Deactivating Species during Methanol to Olefins Conversion over H-SSZ-13."

ACS Catalysis

, vol. 5, no. 2, Dec. 2015, pp. 992–1003., doi:10.1021/cs501345g.

Ghosh, Ashim Kumar, et al.

SILICOALUMINOPHOSPHATE CATALYST FOR CHLOROMETHANE CONVERSION

.

Ghosh, Ashim Kumar, et al.

Stable silicoaluminophosphate catalysts for conversion of alkyl halides to olefins

.

Woo, Jungwon, Kirsten Leistner, Diana Bernin, Homayoun Ahari, Mark Shost, Michael Zammit, and Louise Olsson. "Effect of various structure directing agents (SDAs) on low-temperature deactivation of Cu/SAPO-34 during NH

3-SCR reaction." Catalysis Science & Technology (2018).
Nasir, Rizwan, Nor Naimah Rosyadah Ahmad, Hilmi Mukhtar, and Dzeti Farhah Mohshim. "Effect of ionic liquid inclusion and amino–functionalized SAPO-34 on the performance of mixed matrix membranes for CO2/CH4 separation." Journal of Environmental Chemical Engineering 6, no. 2 (2018): 2363-2368.
Zhao, Pu, Lin Ye, Zhenyu Sun, Benedict TW Lo, Harry Woodcock, Chen Huang, Chiu Tang, Angus I. Kirkland, Donghai Mei, and Shik Chi Edman Tsang. "Entrapped single tungstate site in zeolite for cooperative catalysis of olefin metathesis with Brønsted acid site." Journal of the American Chemical Society 140, no. 21 (2018): 6661-6667.
Romo, Joelle E., Ting Wu, Xinlei Huang, Jolie Lucero, Jennifer L. Irwin, Jesse Q. Bond, Moises A. Carreon, and Stephanie G. Wettstein. "SAPO-34/5A Zeolite Bead Catalysts for Furan Production from Xylose and Glucose." ACS Omega 3, no. 11 (2018): 16253-16259.
Fickel, Dustin, Neeta Kulkarni, and Kaiwalya Sabnis. "Synthesis of sapo-34 and use in chloromethane to olefins reactions." U.S. Patent Application 16/076,739, filed February 14, 2019.