Single-Pass AAO (5p/Pack)
Product Detail
CAS No.: 1344-28-1
Anode aluminum oxide (AAO) substrates from ACS Material are composed of uniform, parallel, immobile nanopores in a high-density, honeycomb-like structure. AAO templates are ideally suited for electrodeposition of nanoparticles into large-scale uniform arrays onto the surface of a substrate. Hard AAO templates simplify the production of nanoparticles for production and study, and this 5 pack of single-pass templates gives you the high-quality templates you need to get your nanomaterial research moving forward.
ACS Material is pleased to provide high-quality single-pass AAO templates to researchers and laboratories around the world. These templates, along with graphene and all our other advanced nanomaterials, are produced using the latest technological advancements. Our products conform to the most rigorous standards for quality and consistency. We're consistently on the leading edge of nanomaterial development. We work hard to offer our customers the most up-to-date selection of nanomaterials. Get your single-pass AAO template 5 pack from ACS Material online today. For the best quality, selection, and price, trust ACS Material.
Structure for Single-Pass AAO Templates: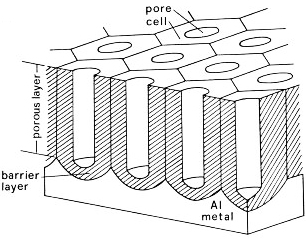 Types of Single-Pass AAO Templates
SKU
Aperture
Hole Depth

Hole Cycle

(Interpore distance)

Size
A1030211
50nm
300nm±30nm
100nm
2 x 2 cm

*

A1030011
50nm
5µm±0.5µm
100nm
2 x 2 cm
A1030111
50nm
60µm±10µm
100nm
2 x 2 cm
A1050011
90nm
5µm±0.5µm
100nm
2 x 2 cm
A1050111
90nm
60µm±10µm
100nm
2 x 2 cm
A1060011
200nm
5µm±1µm
450nm
2 x 2 cm
A1060111
200nm
60µm±10µm
450nm
2 x 2 cm
A1080011
400nm
5µm±1µm
450nm
2 x 2 cm
A1080111
400nm
60µm±10µm
450nm
2 x 2 cm
*Due to shortage of reagent, new batches for this type is not polished.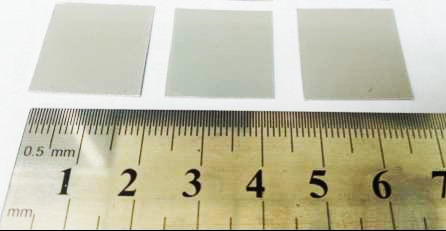 AAO Templates Aperture 200nm,Hole Depth 5µm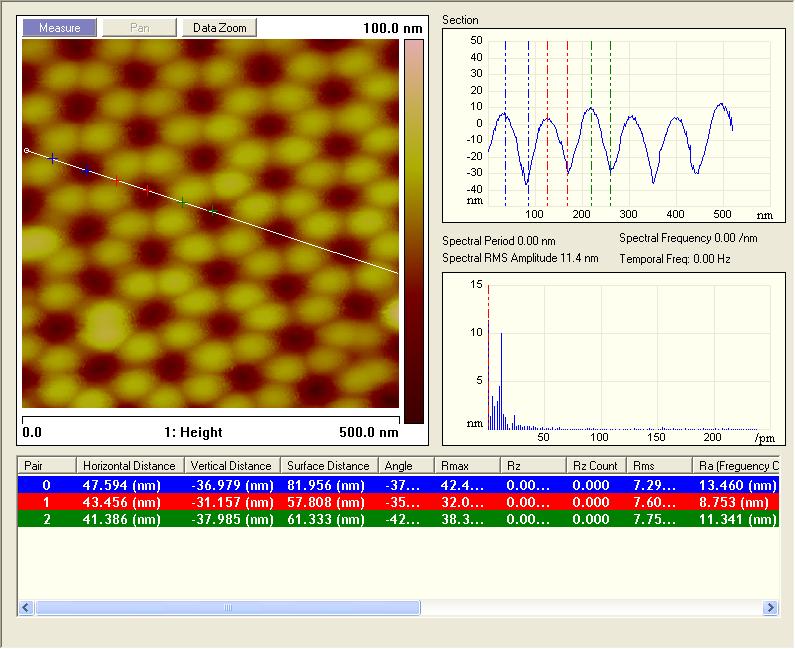 AFM Photo for AAO Templates with Aperture 50nm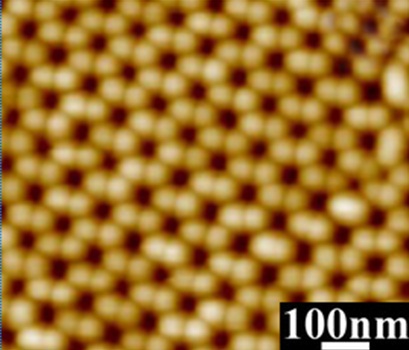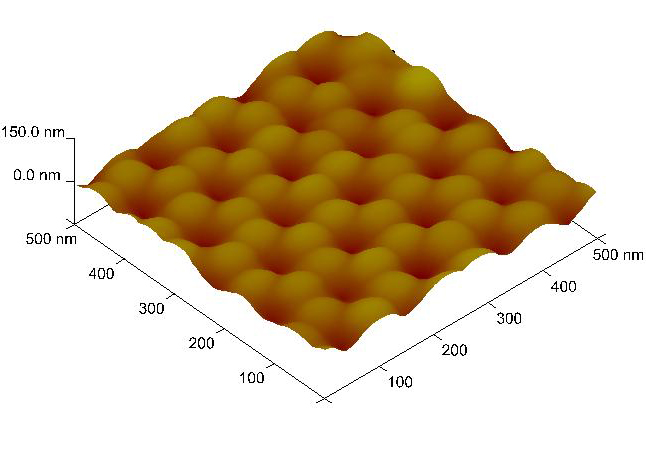 AFM Photos for AAO Templates with Aperture 40-60 nm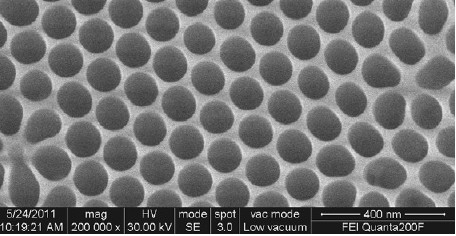 SEM Photo for AAO Templates with Aperture 100 nm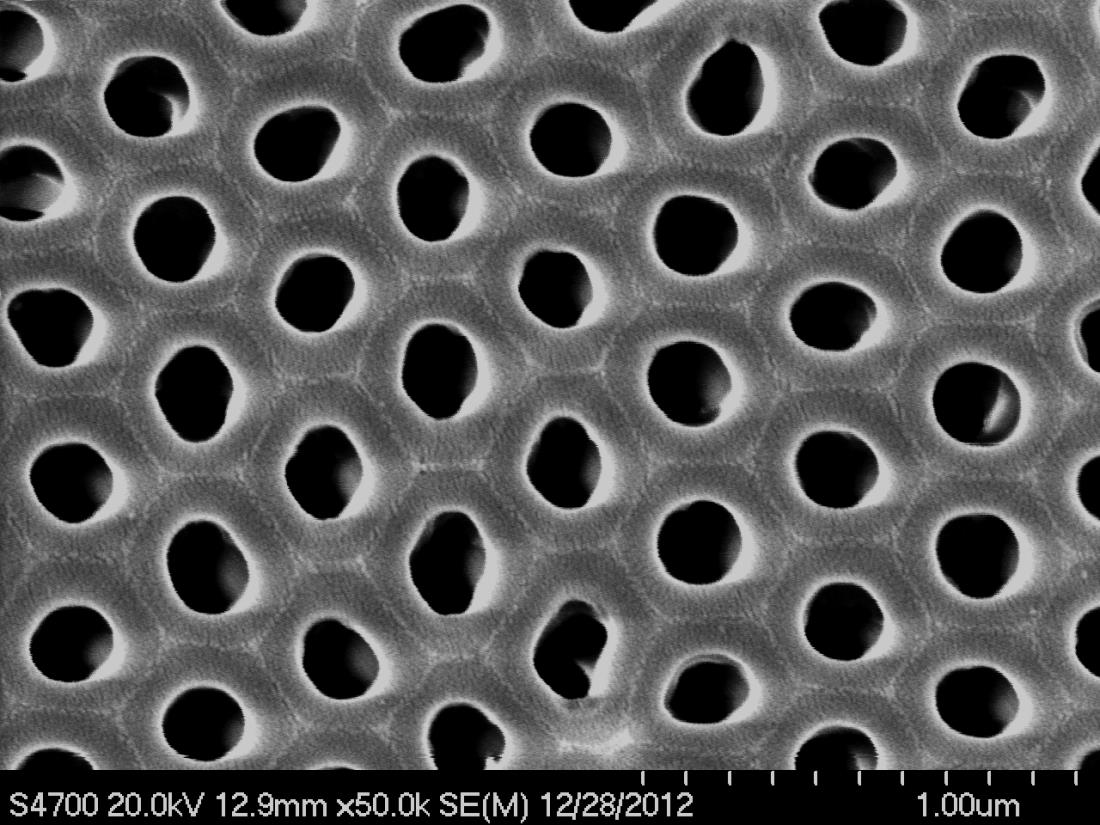 SEM Photo for AAO Templates with Aperture 200 nm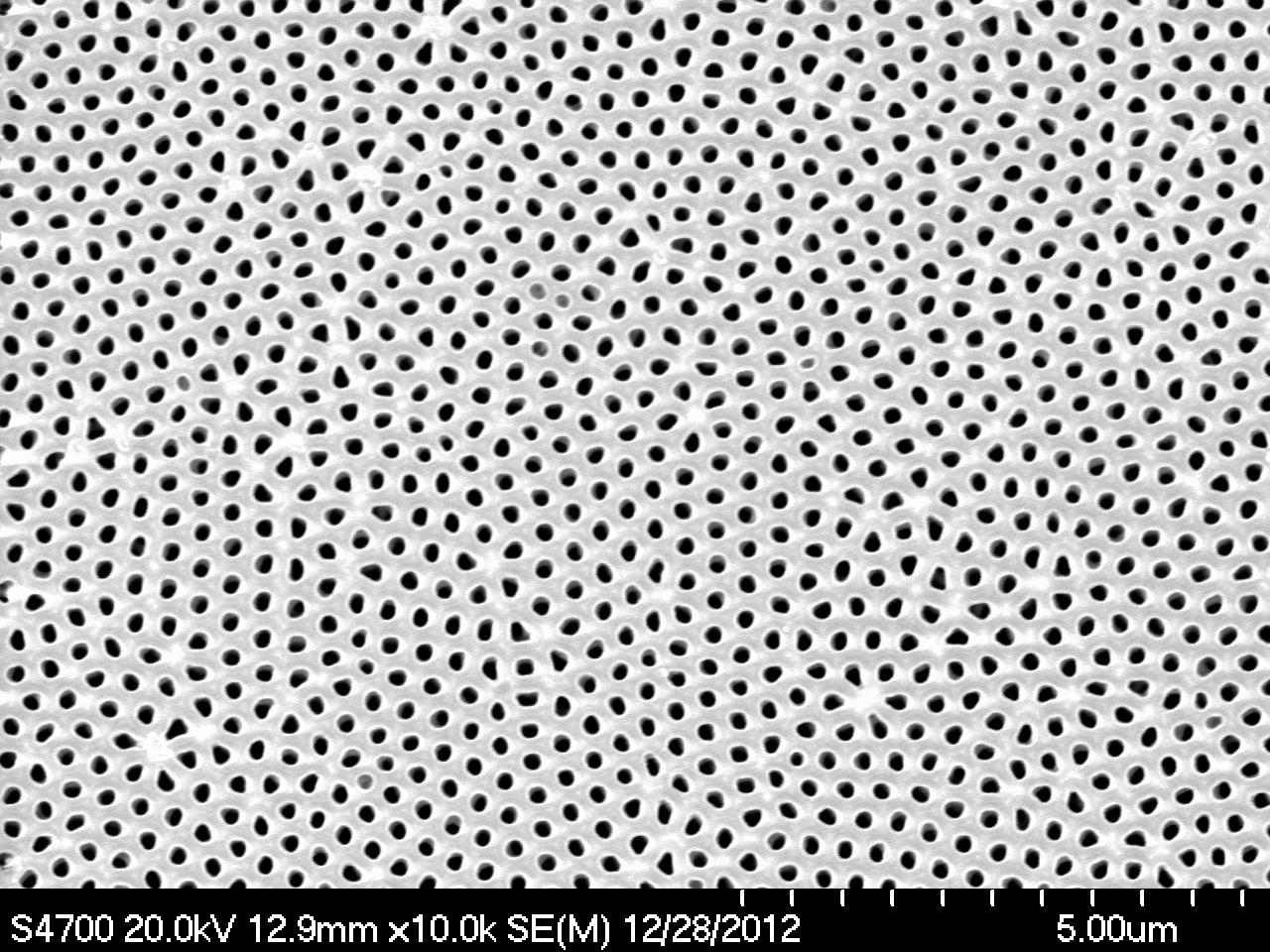 SEM Photo for AAO Templates with Aperture 200 nm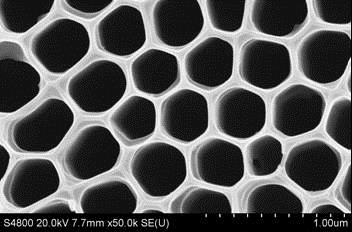 SEM Photo for AAO Templates with Aperture 400 nm

SEM Photo for AAO Template Cross Section with Aperture 50 nm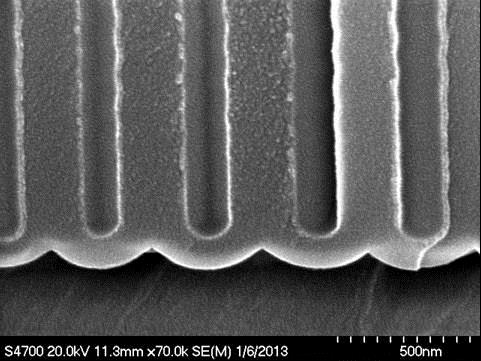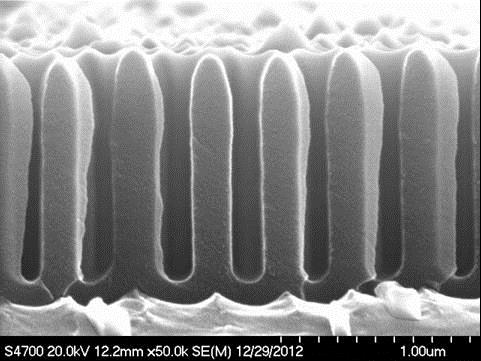 Typical SEM Photos for Single-Pass AAO Templates
Disclaimer: ACS Material LLC believes that the information on our website is accurate and represents the best and most current information available to us. ACS Material makes no representations or warranties either express or implied, regarding the suitability of the material for any purpose or the accuracy of the information listed here. Accordingly, ACS Material will not be responsible for damages resulting from use of or reliance upon this information.
FAQ
1. What is the best method to dissolve/etch an AAO Template?
There are two methods that we recommend. Please make the best adjustments based on your own experiment.
Slow Removal: Depending on the microstructure evolution, a slow removal of AAO layer may be preferred. This can be achieved by using 5 wt% phosphate acid at 30º Celsius. Usually, this process is suitable for Single-Pass AAO.
Rapid removal: Use heated 3M NaOH or HCl solution, depending on your specific needs.
2. What's the thickness of the Al substrate?
The Al substrate is 150microns thick.
3. What is the best method for cutting an AAO Template?
The method we recommend involves using a metal ruler, a sharp knife or blade, a clean cloth (specialized cleanroom wipes suggested), and a hard flat surface (glass or steel).
Cutting Method:
1. Cover the hard surface with a cleanroom wipe or clean cloth.
2. Place the AAO sample on the wipe with the Al substrate (back side) facing up.
3. Align the metal ruler parallel to the cut you want to make.
4. Press down firmly on the ruler and slice the AAO sample several times along the edge of the ruler.
5. If the AAO sample is not cut through completely, slowly and carefully bend the template until it comes apart.
6. Finally, the AAO sample can be cleaned by ultrasonic cleaning <30 seconds using acetone, ethanol, isopropyl alcohol or deionized water.
Research Citations of ACS Material Products
Jaworski, Nazariy, and Nazariy Andrushchak. "A method of nanoporous anodic aluminum oxide structure modeling based on Bezier curves generation." 2017 14th International Conference The Experience of Designing and Application of CAD Systems in Microelectronics (CADSM), 2017, doi:10.1109/cadsm.2017.7916085.
Jaworski, Nazariy, Marek Iwaniec, and Mykhaylo Lobur. "Implementation Features of Fibrous Composite Microlevel Structure Model Construction Based on Bezier Curves Generation and OpenCL Technology Usage." Machine Dynamics Research 41 (2017).
Fleming, Evan, Feng Du, Eric Ou, Liming Dai, and Li Shi. "Thermal conductivity of carbon nanotubes grown by catalyst-free chemical vapor deposition in nanopores." Carbon 145 (2019): 195-200.
Fleming, Evan. "Multi-scale investigation of composite materials for enhanced phase change thermal storage systems." PhD diss., 2018.
Liu, Cong. "Nanoporous materials chemistry: From gas separation to high pressure chemistry." (2017).