Disposable Nitrile Powder-Free Gloves (100 each/box)
Please allow 2-3 business days for order processing. Ships via FedEx only. See availability above. For FAQ please scroll to the bottom of this page.
Product Detail
**Please note, due to the nature of this item there are no refunds, exchanges or returns. 
If you need bulk quantities, please email contact@acsmaterial.com. Thank you!
INTERNATIONAL ORDERS: We are unable to fulfill lab supplies orders outside of the USA. Orders shipping to Alaska, Hawaii, Puerto Rico & US territories will incur extra shipping fees. 
INQUIRIES: The best way to contact us is by email. Please email contact@acsmaterial.com if you have urgent inquiries. 
BUSINESS HOURS: Monday to Friday 9AM to 5PM PST.
Related Products:
KN95 Face Masks/Disposable Face Masks/Gloves/Hand Sanitizer/Alcohol Disinfectant/Face Shield/Safety Goggles
>> Order Here <<

Product Overview
This legendary product is famously used in laboratories worldwide. Its balance of protection and tactile sensitivity convinced users at all different kind of applications. While it can be used as a medical examination and category III protective glove, this latex-free protection comes in handy, while you work on glass equipment in laboratories or kitchens. The finger-texturing allows optimal performance by a high a degree of sense of touch throughout the glove film. The finished surface allows grabbing of any smooth and wet surface without losing grip to it, while protecting from any surroundings that should not come in contact with bare skin.
Specifications
Product Name:*

Sri TrangTM Nitrile Powder-Free Gloves

Sysco® High Performance Nitrile Gloves

Material:

Nitrile butadiene rubber (NBR)**

Nitrile butadiene rubber (NBR)**

Sterility:

Non-sterile

Non-sterile

Color:

Blue

Blue/Black

Size:

M (240mm)

M; L; XL

Package Size:

100ea/box

100ea/box

Weight:

4.8g

--

Thickness at Palm (Single Wall):

Specification: 3.1mil (0.08mm)

Actual Measurement: 3.5 mil (0.09mm)

--

Inner Treatment:

Chlorination

--

Features:

Powder-free

Latex free

Ambidextrous

Disposable

CE Compliant

Figure textured

Single use only

Food Service Grade

Powder-free

Latex free

Ambidextrous

Disposable

Wrist Length

Single use only

AQL Up to:

1.5

--

Origin:

Thailand

USA
*ACS Material carries two brands to fulfill the increased demands and will ship whichever is available first.
**This product is not made with Natural Rubber Latex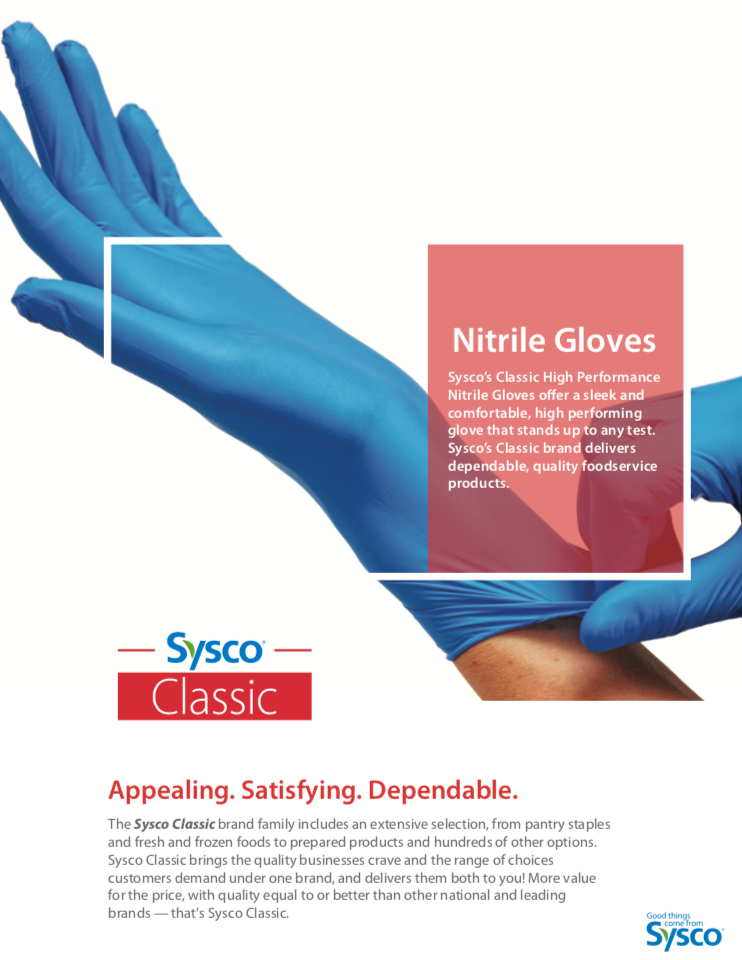 Sysco® High Performance Nitrile Gloves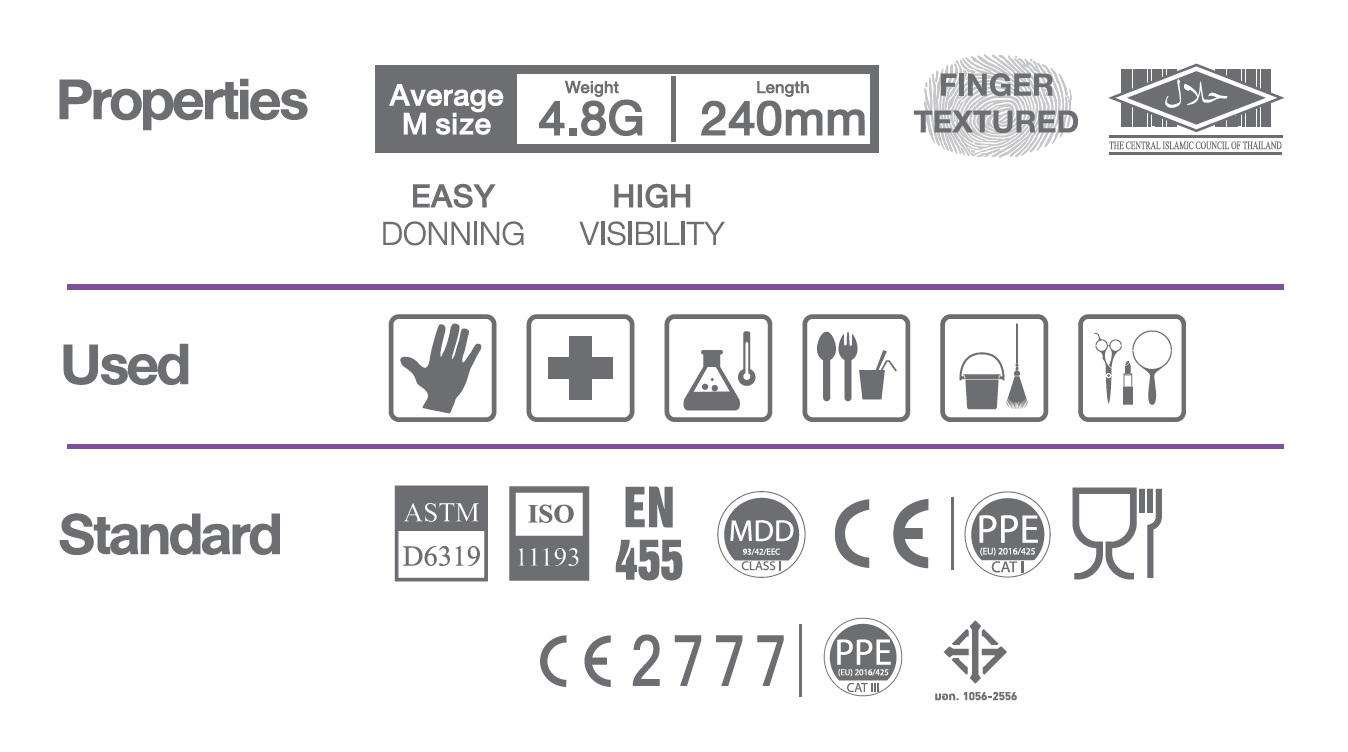 Properties and Standard for Sri TrangTM Nitrile Powder-Free Gloves
NOTE: Not for use in diagnostic procedures. 
Instructions
Single Use Only
Non-Sterile; Not Surgical Gloves
When wearing gloves, do not wear rings or other accessories, pay attention to trim nails
Wash hands before and after use
Storage
Store in a dry ventilated environment. Avoid direct sunlight.
Disclaimer: ACS Material, LLC believes that the information in this page is accurate and represents the best and most current information available to us. ACS Material makes no representations or warranties either express or implied, regarding the suitability of the material for any purpose or the accuracy of the information contained within this document. Accordingly, ACS Material will not be responsible for damages resulting from use of or reliance upon this information.
Frequently Asked Questions
How can I contact ACS Material?
Due to the increased volume of calls, the best way to contact us is by email. Please email contact@acsmaterial.com if you have urgent inquiries. We will get back to you ASAP. 
What are your business hours?
Our business hours are Monday - Friday 9AM to 5PM PST.
Do you have gloves in stock?
Please check the real-time availability above (its located below the price). We will be fulfilling orders in the order they are received. 
Do I need to have a company/organization to order? 
No, our lab supplies are available to the general public. If you dont have a company or organization, simply put n/a in the required field. 
When will my order ship? 
Orders will be shipped out within 2-3 business days as long as the items in stock. If there is a lead time posted, please expect to wait this long before the order can ship. 
What does the lead time mean?
Lead time is the time between placing your order and when we can actually get it shipped. From there, the delivery time will depend on the shipping speed you choose on your order. 
How long will my order take to arrive?
Lead time + estimated delivery time from California to your destination (based on your chosen FedEx shipping speed). 
How can I cancel my order?
Please note, due to the nature of this item there are no refunds, exchanges or returns. All sales are final.
Where are the gloves being shipped from?
Our facility in Pasadena, California.
Are your gloves for medical use?
These gloves are non-sterile and they should NOT be used for surgical procedures.  For the purposes of the current global pandemic these gloves offer good general protection. 
How are orders shipped? 
Orders are shipped via FedEx. If you have your own FedEx account, please contact us before placing your order. Due to high order volumes, your order may take up to 3 business days to ship. Your tracking number will be sent via email as soon as it is available. We will try our best to ship your order ASAP and we appreciate your patience! Rates apply to continental US states and there will be an extra charge for items shipping to Alaska and Hawaii. Puerto Rico and other US territorries will be considered international. We can ship these, however, extra shipping fees will apply.
Can you ship orders internationally? 
At this time, unfortunately, we are not accepting international orders (outside of the USA) for any of our lab supplies. We are focusing on providing these supplies to our US customers who are in the most need right now. Sorry about the inconvenience.